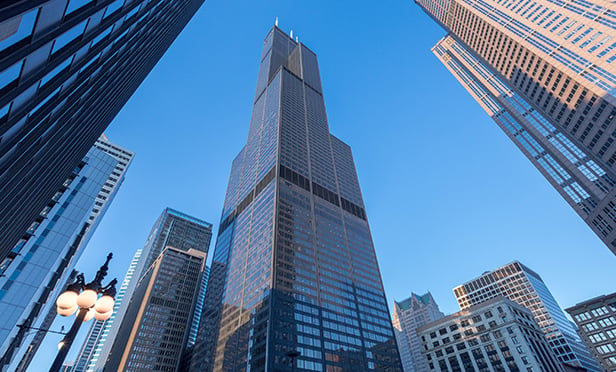 CHICAGO, IL—United Airlines will keep its headquarters at the iconic Willis Tower in the airline's hometown of Chicago, while partnering with the building's owner, EQ Office, a division of Blackstone, in making major investments to completely transform the current workspace and experience.
"We are thrilled that United Airlines will continue to call Willis Tower home," says David Moore, senior vice president and portfolio director at EQ Office. "We are dramatically enhancing the building and creating the new standard for an urban workplace, with all our focus on improving the daily work and lives of our tenants. United's long-term commitment to its global headquarters at Willis Tower is a major win for Chicago and their investment in a modernized workspace will support their growing business for years to come."
The new deal to remain at Willis Tower provides the airline with a tremendous opportunity to completely reimagine the workspace from the bottom up. United will redesign workspaces to allow employees to better collaborate using the latest technology.
United says the improvements will help it recruit and retain top talent from the Chicagoland area and beyond, who have come to expect modern and more efficient places of work.
"As one of the city's largest private employers and its hometown airline, we are excited to deepen our roots here in Chicago while making the investments needed to reimagine the headquarters for our employees," says Oscar Muñoz, United's chief executive officer. "The investments we are making will help our employees provide unparalleled service to our front-line colleagues and to our customers as we continue to improve and realize our airline's full potential."
The new agreement extends United's existing lease to March 31, 2033. Additionally, Blackstone is already investing more than $500 million into Willis Tower for all tenants, which will transform the building from the inside out. The renovations, the biggest restorative transformation in the building's 43-year history, include the addition of Catalog, a five-story immersive neighborhood experience with 300,000 square feet of new retail, dining, conferencing, events and entertainment space, over 125,000 square feet of tenant exclusive amenities, and a 30,000 square feet outdoor deck and garden.
"We are thrilled with United's decision to remain at Willis Tower in a reimagined headquarters," says Jon Gray, Blackstone's president. "This is terrific news for Chicago and a testament to our exciting $500 million revitalization program underway at the property. We look forward to partnering with United in this effort. Willis Tower will continue its role as an iconic business, retail and tourist destination in the heart of the city."
With easy access to all CTA train lines, Union and Ogilvie Stations, as well as nearby bus stops, Willis Tower already provides distinct advantages and will remain attractive to future job seekers throughout the metropolitan region. Commercial real estate services firm Jones Lang LaSalle represented United in the deal.