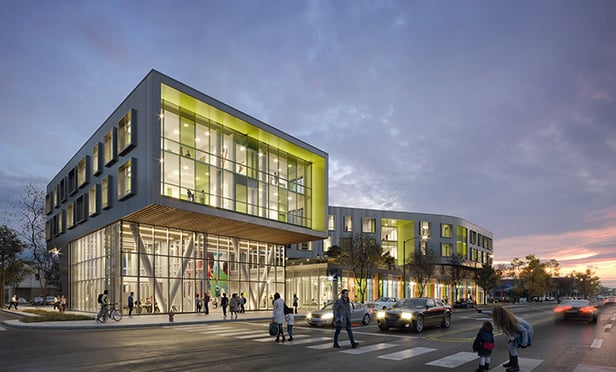 CHICAGO, IL—Evergreen Real Estate Group has opened a co-located library and senior housing development, called the Northtown Branch Library, 6800 N. Western Ave., in Chicago's West Ridge neighborhood. Designed by Perkins+Will, the project is one of two co-located housing and library developments Evergreen is building in partnership with the city of Chicago, Chicago Housing Authority and Chicago Public Library.
The project's residential component, known as Northtown Apartments, will house a total of 44 one-bedroom apartments for low-income seniors, with first move-ins scheduled for April.
"We're proud to play a role in this innovative public-private partnership that provides both much-needed affordable housing for seniors as well as a modern library that benefits the entire community," says David Block, director of development for Evergreen Real Estate Group. "In addition to enhancing the West Ridge neighborhood architecturally, the Northtown Branch will offer critical social and educational opportunities for residents of all ages, including seniors living above in the Northtown Apartments."
Of the 44 senior apartments, 30 will be reserved for CHA residents while the remainder will serve households meeting eligibility requirements pertaining to age and income. Shared amenities include a second-floor roof deck, fitness room, two lounge areas and two laundry rooms. The library also features an interior courtyard, as well as a large mural depicting iconic images from the West Ridge neighborhood by local artist Chris Silva.
Earlier this year, Evergreen opened Independence Branch Library, a similar co-located development located at 4024 N. Elston Ave. in Irving Park. Designed by John Ronan Architects, the project includes Independence Apartments, which also consists of 44 low-income senior residences. Those apartments are expected to be completed later this spring. Evergreen is leasing and managing the apartments in both developments.