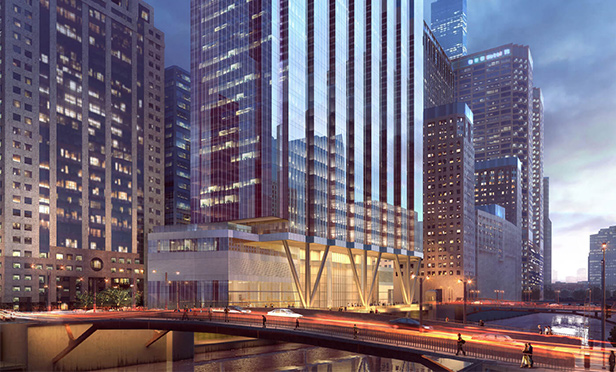 CHICAGO, IL—No18, a cosmopolitan members club for professionals, has signed a lease to open a new location in the trophy-class office tower at 110 North Wacker Drive, being developed by The Howard Hughes Corporation and Riverside Investment & Development.
The new 58,000-square-foot lease includes two penthouse floors of 110 North Wacker Drive, set to be Chicago's tallest office building delivered in 30 years. The space will feature a double-height atrium flanked by scenic outdoor terraces with unparalleled views. The balance of the space will offer a blend of offices, meeting rooms, lounges, clubroom and conference venues, all with approximately ten and twelve-foot ceiling heights.
"As collaborative workspaces are a valuable addition to any trophy-class tower, it is important to differentiate ourselves with a luxury offering befitting the location, architecture, views, technology and amenities of 110 North Wacker Drive," says Paul Layne, president of the Central Region, The Howard Hughes Corporation. "Not only does No18 provide an efficient solution for our tenants' flex space needs, its elevated design and one-of-a-kind workspaces is a fitting match, providing the building with yet another dynamic amenity with its cosmopolitan social club."
Since launching in 2012 and expanding to the United States in 2018, No18 continues to solidify its reputation as a leading curator of high-end workspaces for businesses and creative professionals, seamlessly blending work and leisure. Known for its unique aesthetic blend of contemporary furniture and art, modern design and striking antiques, No18 is a premium workspace designed to foster a rewarding business lifestyle.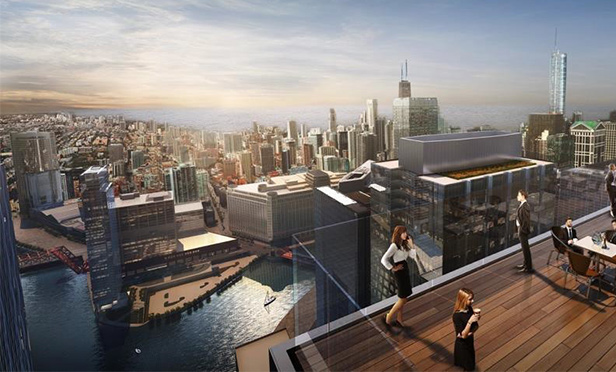 "With our stunning interiors and cosmopolitan atmosphere, No18 workspaces are held to the highest standards by each and every guest who walks through our doors. Undoubtedly, our lease with 110 North Wacker Drive is going to raise that bar even higher," says Michael Berretta, vice president, network development, IWG. "Today marks a significant day for No18 as we announce our first workspace in Chicago. We could not have selected a more prestigious location where we—and more importantly, our members—will feel right at home."
No18 joins a tenant roster that includes Bank of America and Lincoln International. Bank of America was the first anchor tenant, leasing approximately 530,000 square feet which accounts for more than one-third of the building's space.
"We continue to see robust leasing progress at 110 North Wacker, in recognition of the building's exceptional location, amenities and unmatched views of and from the building," says John O'Donnell of Riverside Investment and Development. "Large blocks of space will not be available for long. Construction progress is also right on budget and on schedule as we reach our first typical floor. Regus' No18 concept is a great addition to the building, and the penthouse atrium will be extraordinary space."
110 North Wacker Drive is a class-A building that will soon become a dynamic addition to Chicago's iconic skyline. The marquee high-rise, set to open in Q4 of 2020, is a collaboration with the award- winning leasing, design and construction team of CBRE, Goettsch Partners and Clark Construction.