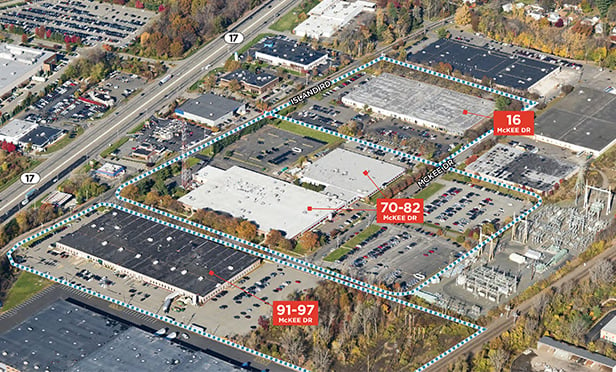 MAHWAH, NJ—A joint venture partnership between Camber Real Estate Partners and Advance Realty Investors has acquired a three-building, 400,000-square-foot light industrial portfolio in Mahwah, NJ.
The three-building, 400,000-square-foot Mahwah Industrial Park is located at 16 McKee Drive, 70-82 McKee Drive and 91-97 McKee Drive in Mahwah.
"This is an excellent risk-adjusted investment given the market constraint and flexible nature of the improvements, as well as the strong occupancy history of these consistently institutionally owned assets," says Dave C. Surti, principal of Camber Real Estate Partners. "The park's desirability is evidenced by its ability to continually attract and retain tenants with lengthy tenure."
The Mahwah Industrial Park is located immediately off Route 17 in Bergen County, five minutes south of the intersection of major interstate highways 87 and 287. The properties have tremendous visibility from Route 17 and provide for easy access to Midtown Manhattan, Port Newark/Elizabeth, Newark Liberty International Airport and the Meadowlands Industrial Market through Northern New Jersey's vast highway network.
The properties are a two-minute walk from the Mahwah train station, and less than a five-minute drive from the Ramsay Route 17 train station, offering access to the entire Northeast Corridor via the Main/Bergen-Port Line, including New York City through Secaucus Junction. Such proximity to transit is rare in the supply-constrained, Northern Bergen County market, which continues to exhibit strong demographics.
"The industrial market across the United States continues to benefit from the growth of e-commerce, last-mile delivery and advancements in the supply chain," says Christopher M. Bellapianta, managing principal of Camber Real Estate Partners. "Northern New Jersey is land-constrained, which has promulgated substantial development farther from the Port of Newark and down the Turnpike. Infill product close to New York City has become more expensive to lease and difficult to acquire as a result of limited supply and voracious tenant demand. We are bullish on the state's industrial market and this acquisition is a testament to our confidence in its long-term prospects."
The assets are 100-percent leased to a diverse tenant roster that spans various industries including Prestige Toyota, Lincoln Technical Institute, Flyte Tyme and EDAX. The portfolio has experienced strong occupancy since construction due to its regional reach, excellent highway access and proximity to a confluence of wealthy surrounding communities that house business owners, executives and employees. Camber plans to expand on the overall tenant experience at the park through its highly experienced sponsorship and deep understanding of the market.
The three buildings in the portfolio were built to an institutional standard in 1966, with all units featuring individual entrances and dedicated loading. The campus offers parking ratios that far exceed the market standard and is ideal for heavy parking users. However, the buildings are highly divisible and suitable for a variety of manufacturing, distribution and office tenants.
"We are thrilled to grow our partnership with Camber on another outstanding investment opportunity," says Alexander Cocoziello, principal and managing director of Advance Realty Investors. "The portfolio exhibits excellent supply and demand characteristics and our partnership plans to hold it as a long-term investment."
In the past 24 months, Camber Real Estate Partners has assembled a portfolio consisting of nearly 1.6 million square feet across 15 buildings, in addition to completing several large acquisition advisory assignments.
The sale was arranged by the New Jersey investment sales team of Cushman and Wakefield, led by vice chairman Gary Gabriel, which included managing director Kyle Schmidt and associate director Ryan Larkin.
John Alascio, executive managing director of Cushman and Wakefield's Equity, Debt and Structured Finance group, arranged mortgage financing with a team that included senior director Sri Vankayala, capital markets associate Noble Carpenter III and analyst Emily Johansen.
The acquisition financing of $31.2 million was provided by People's United Bank.