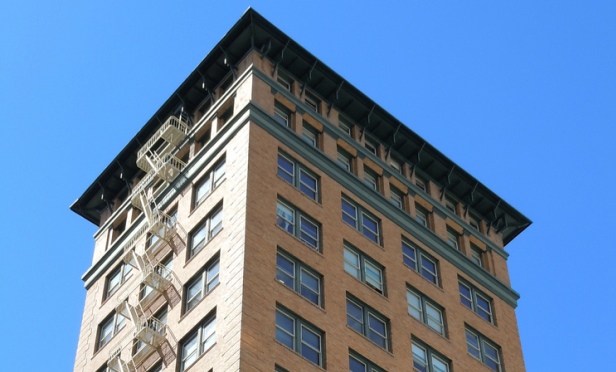 SAN FRANCISCO—Marking WeWork's fifth San Francisco location and first on Union Square, Concord Capital Partners has signed the co-working firm to a long-term lease at the historic Whitell Building. Under the terms of the 10-year lease valued at more than $10 million, WeWork will bring its collaborative concept to five full floors totaling 12,000 square feet as it continues its expansion mode.
Concord acquired the 110-year-old 50,000-square-foot office tower at 166 Geary St. overlooking Union Square in November 2015 for $60 million. Following a major renovation and repositioning to attract entrepreneurial tenants looking for a Union Square location, the Los Angeles-based real estate investment firm has increased occupancy to more than 95%.
Completed in 1907, the 16-story steel framed building was one of the few structures to withstand the 1906 earthquake. The building still stands as one of the tallest on Union Square and is situated directly across from the entrance to Neiman Marcus at one of the busiest pedestrian intersections in the city.
Concord's Yoav Sarraf represented the firm on the lease transaction. WeWork was represented by Ray Fallack of Seven Equity Group.
"We are finding, especially in tech-oriented markets such as San Francisco, creative-minded tenants are looking for more intimate and authentic spaces that enhance the collaborative experience, which is difficult to find in the urban core," Sarraf tells GlobeSt.com. "It was one of the key elements that attracted us to the building in the first place. Our goal was to upgrade the building infrastructure and provide features in demand by today's office user, while at the same time enhancing the historic character of the building. While today's modern San Francisco high rises attempt to emulate this, it is inherent in the historic 166 Geary with its 2,500-square-foot floorplates, polished concrete floors, birdcage elevator, exposed ductwork and original architectural elements that cannot be replicated."
Market researchers project that there will be 21,306 co-working spaces worldwide by the end of 2019. And, the field is expected to grow almost 43% between this year and 2022, according to Statista.
Just like the global trend, co-working is growing domestically. The projected number of US co-working spaces in 2019, at 5,026 unique workplaces, is nearly double the amount offered in 2015. This Statista forecast also predicts more than a thousand new spaces in the next three years.