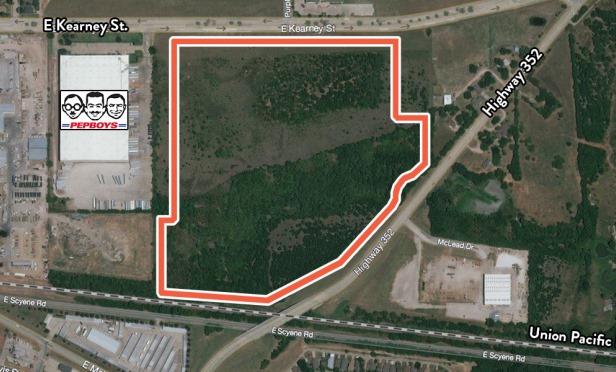 MESQUITE, TX—The East Dallas/Mesquite industrial submarket has shown healthy market fundamentals with new supply and demand in balance, according to Younger Partners. A recent transaction exemplifies that trend, with Dalfen Industrial recently acquiring 45.79 acres on the south side of Kearney Street west of Highway 352 for an undisclosed price.
This tract is adjacent to the Pep Boys distribution hub. The nearby Skyline Logistics Hub, one of Dallas County's largest industrial parks, is home to more than 75 businesses including Union Pacific Railroad's Intermodal and Rail Port Hub, Pepsi Bottling Group, United Parcel Service's ground sorting center, IntegraColor, Fritz Industries and Benjamin Moore Paint.
Younger Partners' John St. Clair represented the seller.
"The location is great due to its accessibility to the major trucking arteries of 635, 30, 80, 20 and 45," St. Clair tells GlobeSt.com. "Also, the city of Mesquite is open for good development."
However, future plans for the land are not immediately known.
"As an infill industrial location, this property was particularly attractive to owner-users familiar with the metroplex," St. Clair says. "This site is central to a large workforce with a diverse economic climate. In addition to commercial activity, Mesquite also has a solid industrial base. Timing is so important in our business. Both the seller and purchaser recognized this and worked hard to get this deal closed."
During the past year, 1.3 million square feet of net absorption was recorded, almost matching the 1.4 million square feet completed during the same time frame a year prior. Another 1.2 million square feet is currently under construction. This healthy demand and balanced supply has resulted in continued upward rental rate pressure, with rates up 5.6% during the past year.