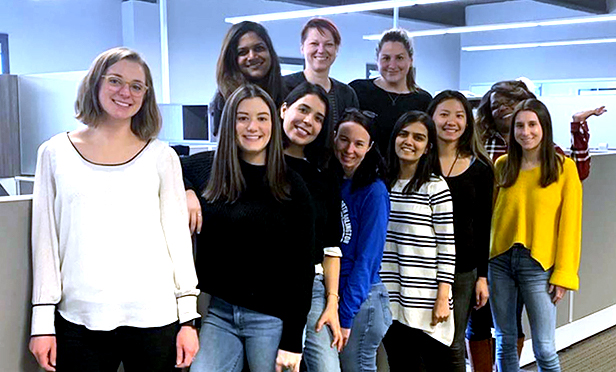 HOBOKEN, NJ—Increasingly, women are breaking gender stereotypes and stepping into historically male-dominated fields, and the commercial real estate industry is no exception. In fact, women occupy many senior vice president, managing director and partner roles today and are more satisfied with their career success than ever before, according to a recent benchmark study by the Commercial Real Estate Women network.
Today, women in CRE have made tremendous inroads, including starting and running lucrative companies. In fact, the CREW study suggests that in many aspects, women have achieved equal or close-to-equal standing to men in the industry.
"Historically, women's presence in the real estate industry was primarily in residential sales and marketing," says Debra Tantleff, founding principal of TANTUM Real Estate in Jersey City, whose certified Women's Business Enterprise development and advisory firm specializes in multifamily and mixed-use communities in New Jersey. "With every market cycle, there continues to be an increasing number of women getting involved in all facets of the industry. It's also encouraging to see the next generation of female students recognizing commercial real estate as a rewarding and viable career path."
Career opportunities in commercial real estate run the gamut from architecture, asset management and investment banking to engineering and environmental science. Opportunities for female leaders continue to grow at Atlantic Environmental Solutions in Hoboken, reflecting the environmental consulting firm's mission to create a corporate culture that allows both women and men to reach their professional goals.
"More women are entering the environmental field at all levels than ever before, and we view this as a tremendous opportunity for our firm," says AESI president Michael Novak. More than half of AESI's professional staff are women, a number that is expected to rise as the company continues to attract and develop talent in key leadership roles.
As Novak previously told GlobeSt.com in an exclusive video interview, AESI works closely with the commercial real estate community in identifying and resolving environmental issues as part of real estate transactions and property development.
"In our work with developers, investors, brokerage firms and others, it is inspiring to find women in leadership positions that are succeeding in every facet of the industry," says Christine Lezette, operations director. "This reinforces our commitment to creating an environment at our firm where women can grow and thrive. Equally important, AESI invests considerable resources to ensure all employees have the knowledge, support and flexibility they need to contribute to the industry and become effective business leaders."
Kelsey Nakamura, a director at Cushman & Wakefield based in Morristown, focuses on all aspects of office brokerage, including tenant and landlord representation. She joined the firm in 2012 and has received multiple industry awards throughout her career. "My position is commission-based, and building my own business is one aspect of this job that made this industry very attractive to me," Nakamura says. "There are challenges and hurdles, but I take pride in having the opportunity to really create my own destiny."
Real estate law and accounting are also viable career paths for women today, but this wasn't always the case. Tara P. Carver, a partner at Saul Ewing Arnstein & Lehr in Princeton whose practice areas include commercial real estate and commercial loan transactions, has seen significant changes with respect to women's presence in the industry during her 20-plus-year career.
"The New York Times recently published an article indicating women now hold 43 percent of commercial real estate positions worldwide," Carver says. "That's much different than when I began my career. Today, good companies look for good people, and smart businesses understand the value of inclusion and diversity in the workplace, each of which positively affects a company's bottom line and impacts hiring and retention."
Sefi Silverstein, a CPA and shareholder with WilkinGuttenplan, oversees the firm's real estate practice group.
"From when I began my career many years ago I've seen many positive changes in the field of real estate as well as accounting, two industries which have typically been predominantly male-oriented – a double challenge so to speak," she says. "For young women in real estate, as in any profession, exhibiting exceptional skills and knowledge in the industry will gain the respect of others."
"One of the wonderful aspects of choosing a career in commercial real estate is there are so many different avenues in which this dynamic industry can take you," Tantleff says. "I encourage women to understand their personal strengths and what they are good at, and then determine how best to use those skill sets within the industry."
Networking and relationship-building can open doors to business opportunities in commercial real estate and help women meet sponsors and mentors who can have a considerable impact on their careers.
"Networking is a big part of what it takes to become successful in the industry today," said Nakamura, who serves on NAIOP NJ's board of trustees.
While women recognize the importance of mentors and sponsors, finding one can be a challenge.
"Throughout my career I've had some exceptional role models, but I never had a female mentor in real estate because she simply didn't exist," says Tantleff. "There's an understanding among my peers that we must share our knowledge and become that resource for young women entering the business."
Many tri-state organizations offer women valuable opportunities to network with other CRE professionals, foster new business and find support. These include CREW NJ, part of the 11,000-member global networking organization that advances the achievements of women in the commercial real estate industry.
"The number of professionals within our organization that are willing and able to mentor and assist young professionals in the industry is amazing," says Carver, who serves as president of CREW NJ's board of directors. "But to make these connections it's imperative to be 'in the room'. Our events are a great place to start."
Lezette has found that networking also provides opportunities for exposure to the many facets of the industry.
"The commercial real estate industry today is wide-ranging and comprised of individuals with varying specialties, skill sets and interests. Networking is a great way to connect with many different experts in the field and expand your industry knowledge," she says. "Personally, it's important for me to share what I have learned and take a leadership role at these events to ensure others have an opportunity to build these essential industry relationships."