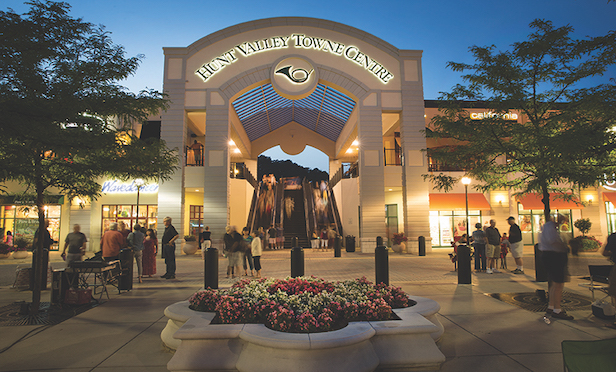 HUNT VALLEY, MD—Greenberg Gibbons of Owings Mills, MD and New York City-based Seritage Growth Properties report they have formed a joint venture to redevelop a nearly 14-acre parcel as part of the modernization of the Hunt Valley Towne Centre here.
Initial plans for the property in northern Baltimore County include further redevelopment of the former two-story Sears building and auto center located behind Wegmans. The newly formed joint venture reports that Michael's and HomeGoods are now open on the first floor, while additional retail and entertainment uses will be targeted on the second floor.
The partnership also intends to explore other development opportunities on the site. This redevelopment is the first phase of an overall $150 million transformation by Greenberg Gibbons of Hunt Valley Towne Centre that will feature new construction of first-class retail space, luxury apartments, office and hotel.
"We are excited to partner with Seritage on this transformative project," says Eric Walter, EVP of development, acquisitions & finance for Greenberg Gibbons. "We look forward to the continued evolution of Hunt Valley Towne Centre and creating a vibrant destination for our community."
"We are pleased to announce this venture with Greenberg Gibbons as an example of our strategy to partner with successful local developers to unlock value at our properties through intensive redevelopment and site densification," says James Bry, EVP of development and construction at Seritage Growth Properties. "We look forward to participating in the continued redevelopment of the former Sears site at Hunt Valley Towne Centre."
The redevelopment project will add to the mix of uses including apartments, office, national and regional retailers and restaurants at Hunt Valley Towne Centre, which is anchored by Wegmans, Regal Cinemas and Marshalls. The property's other tenants include Dick's Sporting Goods, DSW, Ulta Beauty, Bassett Furniture, California Pizza Kitchen, Eileen Fisher, Ann Taylor Loft and others.
Hunt Valley Towne Centre is located six miles north of I-695 on Shawan Road between I-83 and York Road.
Earlier this month, Greenberg Gibbons and partner Vanguard announced they had contracted with AvalonBay Communities Inc. to build a new residential component at Foundry Row in Owings Mills, MD.
It will be known as Avalon Foundry Row and located on the southeast side of the center across from LA Fitness. The five-story structure will include 437 upscale apartments with a wide array of amenities, including a state-of-the-art fitness center, clubroom lounge, co-working space, dog parks, and various courtyards with a swimming pool and grilling stations. Avalon Foundry Row will offer studio, one-, two-, and three-bedroom apartments.
Greenberg Gibbons has previously partnered with AvalonBay at its Hunt Valley Towne Centre project.
The company has developed and managed more than 5.5 million square feet. Its signature projects include Hunt Valley Towne Centre, Annapolis Towne Centre, Waugh Chapel Towne Centre, Towne Centre Laurel and Foundry Row.
Seritage Growth Properties is a publicly‐traded, self‐administered and self‐managed REIT with 206 wholly-owned properties and 26 joint venture properties totaling approximately 36.3 million square feet of space across 48 states and Puerto Rico.