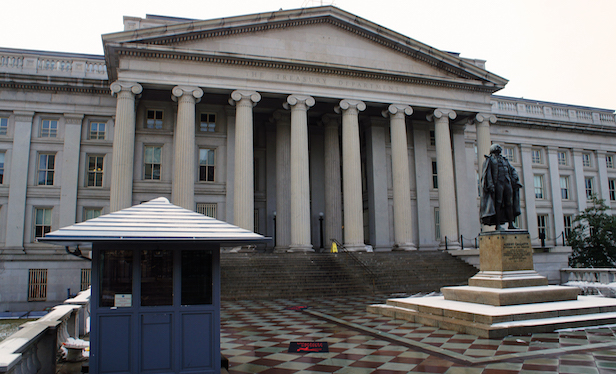 ---
➤➤ Join the GlobeSt.com ADAPT: Opportunity Zones conference September 16-17 in Baltimore, MD The new national conference series is aimed at identifying Opportunity Zones across all property types and geographic regions. This first-of-its-kind event will educate, connect and celebrate the investors, developers and owners with the people behind the planning and decision-making, such as architects, consultants, academics and, most importantly, municipal officials. Click here to register and view the agenda.
---
WASHINGTON, DC—The Treasury Department has released another round of proposed regulations clarifying how Opportunity Zone investments and developments will work. Like earlier rounds, these new rules appear to be generally favorable to the commercial real estate industry.
At 169 pages, Treasury covered a lot of ground in this release. One important topic that was addressed was the question of what activities would meet the act of conduct requirement of a business, Jonathan W. Giokas, a partner with Husch Blackwell, tells GlobeSt.com. "One key test for Opportunity Zone investments is that an investor has to be engaged in an active conduct of business," he says. "In this new set of proposed rules it was determined that leasing can meet the act of conduct requirement for a business."
Another important measure, Giokas continues, is that the IRS provided safe harbors that help determine how a business can meet the gross income requirement in the Opportunity Zone program. "Those are based on the provision of services and the employment of workers."
The IRS also clarified that an Opportunity Zone fund had 12 months to reinvest proceeds from the sale of assets owned by such a fund, according to Giokas. Until now it was not clear how a sale of a project would be treated — as the sale of an investment in a fund, or would the fund be able to redeploy the proceeds into another investment? 12 months to redeploy the proceeds is a generous time frame, Giokas says.
In another measure favorable to CRE investors, Marc Schultz, partner and co-chair of the Opportunity Zones and Funds Industry Group at Snell & Wilmer, notes that this second tranche of proposed regulations do not require that unimproved land be substantially improved in order to be an Opportunity Zone business property—that is, a qualifying property. "However, the land needs to be used in a trade or business rather than for investment purposes," he tells GlobeSt.com. "The proposed regulations invoke anti-abuse rules where a significant purpose for acquiring the unimproved land was to achieve an inappropriate result."
Future Guidance
There is more that needs to be addressed in future guidance. For instance, while the Treasury Department spent a great deal of effort to deal with the churning of funds—that is, if someone invests money in an Opportunity Zone fund, can he pull it out and reinvest in another—it didn't come to a conclusion in this round of proposed rules, Giokas says. "The IRS left open the possibility to do that in future guidance," he says. "They are trying to find authority to get there."
Besides fund churning, another topic that was not addressed was the treatment of carried interest, which many in the CRE community had been hoping would be clarified sooner rather than later.
For Giokas, the biggest unknown about Opportunity Zone investment cannot be answered by the Treasury Department—and that is how the market will respond to this guidance. After the first round of rules there had been an expectation that the faucets would turn on and investments would flow. That didn't happen. Yes, Giokas says, there is very strong interest in Opportunity Zones but inarguably the number of actual deals have been few to date.
"Will the deal flow finally catch up with the interest now that these proposed rules have been released?" he wonders. "And if it doesn't what does it say about the program?"