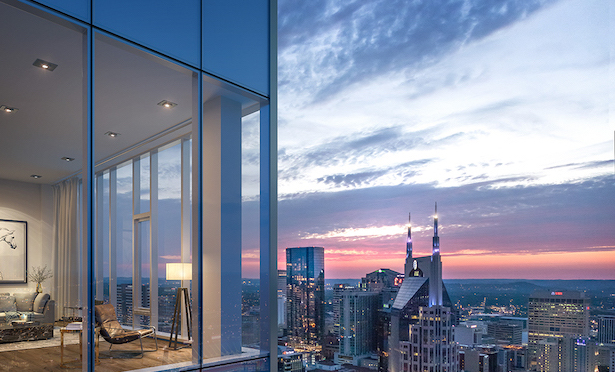 NASHVILLE—The developers of the planned Four Seasons Hotel and Private Residences Nashville project, a partnership of the Congress Group of Boston and AECOM Capital of Los Angeles, has secured $360 million in debt and equity financing for the venture.
Construction will begin in second quarter 2019 on the project at 151 First Ave. South in Downtown Nashville and will be led by AECOM Hunt. The mixed-use development will include 232 five-star hotel rooms, luxury for-sale residential units, approximately 10,000 square feet of retail space and a 368-space parking garage. Both the hotel and the for-sale residential units will be branded and operated by Four Seasons Hotels and Resorts.
Holliday Fenoglio Fowler, L.P., which worked on behalf of The Congress Group, Inc. and AECOM Capital, announced the financing for the project. The HFF debt and equity placement team representing the developers consisted of senior managing directors Riaz Cassum and Danny Kaufman, senior associate Robyn King and associates Andrew Gray and Mary Dooley. No financial terms of the financing were disclosed.
"This transaction garnered strong interest from both lenders and equity investors due to the strength of the sponsorship and their vision for a world-class, luxury development on the best site in Nashville," HFF's Cassum says. "The arrival of Four Seasons to Nashville speaks volumes to the attractiveness of the city as a destination for both leisure and business as well as one of the most desirable places to live in the country."
Residences will feature exquisite interior finishes, floor-to-ceiling windows with views of downtown Nashville, open-concept living areas alongside best-in-class amenities and luxury service that will redefine luxury living and exclusivity in Nashville.
Four Seasons Hotels and Resorts, Congress Group and AECOM Capital, the investment arm of AECOM, announced they were moving forward toward construction on the project on March 18.
The developers noted that the project will continue the momentum and growth of the SoBro area of Nashville. Sparked by the arrival of major businesses and corporate headquarters, the new hotel and residences will be located along the Cumberland River, within a block of fresh and exciting culinary and nightlife experiences on Broadway, West Riverfront Park, Nissan Stadium and the Ascend Amphitheater.
"This will be one of the most iconic high-rise buildings in the state of Tennessee," said Dean Stratouly, president of Congress Group when announcing the impending start of construction in March. "Delivered as LEED Gold and standing 542 feet tall, it will be one of the state's greenest and tallest residential buildings. We'd like to thank the many public and private partners that have aided us in moving forward this generational vision which will redefine the skyline and what is possible in Nashville."
The Four Seasons Hotel and Private Residences Nashville will also include a world-class spa and an array of fitness amenities. Compass has been engaged by the Developer exclusively to handle the sales and marketing of the private residences.
The Congress Group since its founding in 1980 has grown to be one of New England's leading commercial real estate and development firms, with a presence along the Eastern Seaboard. A leader in value-added real estate developments, Congress has many notable projects, including 28 State St. and 33 Arch St. in Boston,
AECOM Capital is an investor and developer of real estate and other large-scale projects across North America and select international markets. AECOM Capital has a total development value of more than $4.5 billion across approximately 11 million square feet.