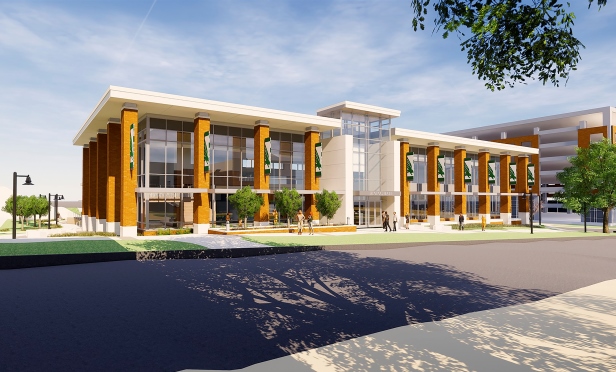 DENTON, TX—The first standalone dining hall is making progress on the University of North Texas campus. The new facility is located at the corner of Maple Street and Avenue A, just east of the Business Leadership Building. JQ is part of the project team and began its design work in late 2017, according to JQ principal Akshai Ramakrishnan.
The two-story dining hall will be approximately 36,400 gross square feet with a project budget of $25.47 million. The site has more than 7 feet of grade differential along the building, which requires steps in the interior footprint and several retaining conditions to accommodate access to the loading dock and the exterior grade profile.
Mechanical equipment is supported on the low roof and screened. The interior area will contain a kitchen with walk-in freezers, refrigerators and blast chillers, server-designated spaces, an intermediate dining mezzanine, and seating to accommodate 700 guests as well as 2,500 square feet of retail dining space.