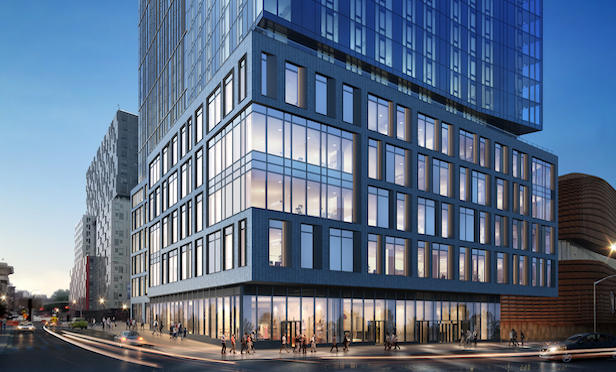 NEW YORK CITY—Greenland Forest City Partners and the Brodsky Organization are developing 18 Sixth Ave. at Pacific Park, the new 22-acre, mixed-use neighborhood in Downtown Brooklyn. The sprawling development was formerly called Atlantic Yards.
The joint venture is immediately beginning construction of the Perkins Eastman designed project. Located at Atlantic and Sixth avenues, the ambitious development will have 859 units of mixed-income housing, including 258 units of affordable housing. Rising to higher than 500 feet, 18 Sixth Ave. will be Pacific Park's largest residential building to date. Construction is expected to be completed in 2022.
In addition, the Brodsky Organization has also begun construction at 664 Pacific St. This project which is also part of the Pacific Park development includes a mixed-income rental residential building, open space and a new public school.
To date, Pacific Park has opened four residential buildings: 550 Vanderbilt is a COOKFOX Architects-designed luxury condominium; 535 Carlton Ave. and 38 Sixth Ave. are two 100% affordable rental buildings with nearly 600 rental units; and 461 Dean St. is marketed as the tallest modular apartment tower in the world.
In addition, BKLYN CLAY, Brooklyn's largest ceramics studio has set up shop at 535 Carlton; and a New York-Presbyterian Brooklyn Methodist Hospital branch stands at 38 Sixth Ave.
In total, Pacific Park plans to comprise 6,430 units of housing including 2,250 units of affordable housing, office space, retail, community facilities and eight acres of public open space. The site is anchored by the Barclays Center arena and the Atlantic Terminal transit hub.