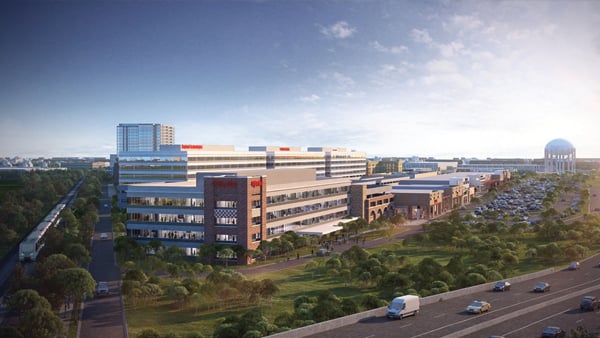 Just before the recession, in a community outside Milwaukee in Wauwatosa, WI, a multi-level luxury mall was planned that would complement offerings at nearby Mayfair Mall, the region's dominant shopping center.
The project eventually evolved into a multi-phase development called the Mayfair Collection, and, rather than demolishing the existing warehouses on the site, the developer decided to adaptively repurpose them into modern retail environments that "embraced their industrial past."
Phase I of the HSA Commercial project opened in spring 2014 and targeted off-price concepts like Nordstrom Rack, Saks Fifth Avenue OFF 5TH and T.J. Maxx. As the off-price sector continued to grow, newly launched brands like J. Crew Mercantile and Off/Aisle by Kohl's selected the location for some of their first stores in the country.
As the Mayfair Collection's first phase filled up, Phase II broke ground in late 2014, and, like the initial phase, it involved converting vacant industrial space—this time a former Kohl's distribution center—into retail. Phase II's anchor, a 47,563-square-foot Whole Foods Market, opened in February 2016—adding a "daily needs" traffic driver to the center.
The project's third phase, the Mayfair Collection Promenade included an additional 50,000 square feet of retail, reflecting the broader tenant mix as well as 250 luxury residential units, adding a built-in customer base to the project. The apartments, which are being developed by Fiduciary Real Estate Development, will be the first of more than 1,000 residences slated for construction over the next five years, pending market demand.
A New World
Welcome to the evolving world of retail—a world that is geared at changing the way people engage in retail and is fast becoming retail's new normal.
It is a world where the environment has become easier to navigate even from 12 months ago. "The main difference we are seeing from this time a year ago is a more positive environment," Scott Holmes, senior vice president and national director of the national retail group at Marcus & Millichap, explains. He points to headlines from the late 2017 to early 2018 that used negative language when describing the retail environment, such as "the retail apocalypse" and "the end of the retail."
Today, retail destinations featuring a blend of entertainment, experiences and services is now well underway, he says. "Omnichannel retail, which was once little more than a buzzword, has come to fruition," he explains, with online retailers adding physical store locations just as traditional retailers refine their online presence.
Demand for space remains robust, Holmes says, and rents have reclaimed their pre-recession levels. "Limited new construction, together with the extended growth cycle that has seen the addition of more than 20 million jobs and exceptionally tight unemployment, has given rise to the reinvigorated retail sector, inspiring investors to show increased interest in the opportunities that these assets offer for both current yield and appreciation."
A Package of Many Uses
Not that there aren't still challenges in retail's new normal.
For instance, Tim Blum, executive vice president and managing director at HSA Commercial, notes that initially residential developers at the Mayfair Collection did not believe that the site of a former industrial complex was well-suited for new housing. But once a Whole Foods was announced and the project started attracting an eclectic lineup of local restaurants, competition became fierce among those same residential developers. "They saw value in these walk-to amenities." Almost always, in short, all of the pieces of these projects must be in place—even if just on paper—for it to succeed.
In response, mixed-use developers have become more creative in looking for alternative anchors and merchandising concepts to spur interest in their projects. As one example, Chuck Taylor, director of operations for Lemont, IL-based Englewood Construction, who specializes in retail, restaurant and shopping center projects throughout the US, says that the common theme he sees in filling vacant anchor tenant retail space is that "nothing is off the table."
Taylor is working with owners and developers who are considering an array of options to convert empty department stores at shopping centers. Those options range from movie theaters and family entertainment concepts to entirely new uses including multifamily, senior housing, and even facilities for municipal bodies such as park districts.
"While our clients are ideally looking for something that supplements the experience at a retail center, at the end of the day they're willing to weigh nearly any opportunity that will make good use of a large swath of vacated space," Taylor says. "In this climate, their construction partner is becoming an extremely valuable resource to help them investigate feasibility and costing for converting spaces for an entirely new purpose."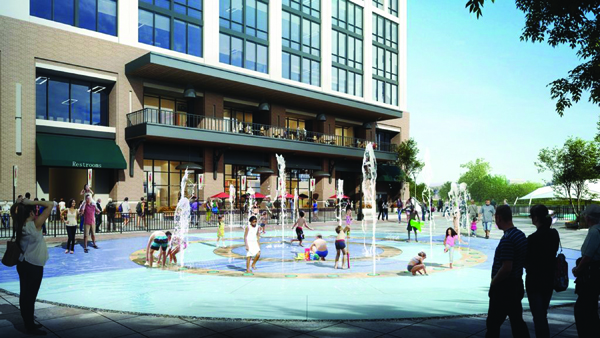 Blum agrees, noting that developers are increasingly looking to theaters, gaming halls, health clubs, coworking facilities, concert venues, brewpubs and others to take the place of conventional retail anchors and drive traffic through a complementary mix of uses—many of which cannot be replicated online.
The way people engage with retail is continuing to change with the growth of e-commerce, Blum explains. "That means that traditional retailing environments must change as well," he says. "Owners of shopping centers and lifestyle properties that would have historically been populated by national fashion brands are increasingly finding that customers are looking for different experiences when visiting their properties including a curated mix of local restaurants, entertainment and gaming venues, boutique fitness concepts, gathering and performance spaces and retail concepts that emphasize a more compelling in-store experience. This is achieved through VIP events, knowledgeable customer service, product sampling, and better overall customer engagement."
With that strategy in mind, Blum says, Serendipity Labs will open a coworking facility in the third phase of The Mayfair Collection. "While a junior department store would have likely occupied this space in the past, the coworking lab offers a contemporary alternative that provides more consistent daytime traffic and an attractive amenity to residents of the nearby luxury apartments."
Taking It Down A Notch
But other projects, which might not be typically viewed as cutting-edge, are also getting creative and are making redevelopment work. In March of this year, for example, Alpha Partners, a commercial real estate company that develops, invests and operates multifamily and select retail opportunities, revealed that it was redeveloping a lot on the first major entry point into the southside of Columbus, OH.
Part of the main retail corridor for Grove City, OH, abbreviated to Rd. is a high-visibility location with easy access to I-71. The site is ready for a small strip center and will potentially include a drive-through quick-serve restaurant. Additionally, the Days Inn located in the rear of the parcel will be rehabilitated from the inside out.
"Perhaps not the kind of property typically viewed as hip or cutting-edge, we see this area on Stringtown Road as a 'Welcome Mat' into Columbus with a ton of potential—it's a great creative real estate deal story," says Avi Abroms, managing partner of Alpha Partners. "The site offers investment opportunity that will not only serve the community's daily needs, but also mark the spot that appropriately introduces tourists, businesspeople and newcomers into the historic—yet growing and evolving—midwestern urban area."
The immediate area surrounding Stringtown Road is expecting ongoing population growth over the next five years as job creation continues to expand.
Alpha Partners has completed other similar upgrades throughout the Midwest and is also currently renovating and leasing the 128-year old, historic Zettler Hardware Building at 101 E. Main St. in downtown Columbus' Red Brick District.
Traditional malls in suburban markets with access to transit are also well-positioned for redevelopment, explains David Kitchen, a principal in the Mixed-Use Studio of Cooper Carry. "Main Street-style mixed-use environments that are pedestrian-oriented, thoughtfully designed and have a significant F&B presence offer one solution for mall owners and investors in search of long-term value," he says. "The street-level retail and F&B offerings are crucial to creating value and offering a lifestyle that will sustain the living and working components above the public realm." When executed correctly, under the right market conditions, he says, "This new breed of sustainable communities will remain relevant long after the current real estate cycle."
With that said, Kitchen explains, "it is important to be careful to not oversaturate our already over-retailed country with retail-driven mixed-use developments and food halls. Not all class C and class B malls and their department store anchors will support these projects. Alternative solutions such as schools, medical offices or residential may better serve the community."
Adding Technology To The Mix
At a recent ICSC event, Melina Cordero, global head of retail research at CBRE, noted that convenience, technology and an omnichannel platform is integral to a successful retail experience also adding that lines will be completely eliminated—possibly in as little as five years. That means no waiting in line to check out or for help. "Technology and consumer experience is going to get rid of the line. I don't think it will exist in the future," she said on the panel. The other panelists at the event agreed, adding that technology will only aid in creating convenience for consumers, from integrating voice activation and AI technology to creating transparency in consumer inventory.
Technology helps to create convenience, but it does so much more, particularly for a retailer's backend, according to Nathalie Walton, global head of local shopping at Google, which has retail technology available that can manage inventory, making it more easily accessible to consumers. "I think retailers will update their backend technology so that they can create a true omnichannel experience and the inventory is more accessible to the consumer."
Walton explained that Google is leveraging technology to bring consumers to the goods that they need and want. For example, if you are driving home and need to pick up an essential, Google Assistant can help you find a nearby store and check the store's inventory to make sure they have the item in stock. "Google is connecting users to the products that they need," added Walton. "I am trying to make sure that retailers are on Google so that we can connect the dots when a user does need something."
Building Communities
According to David Weinert, partner and SVP of leasing at North American Properties, building meaningful communities is also important for the future of retail. For example, the firm's Cascades project in Tallahassee is a good example of the kind of transformative urban developments the market can expect to see more of in the coming years. Project components include market rate mid-rise residential, retail, office, restaurant and hotel space built to maximize views of the park and the Capitol building, along with pedestrian-friendly paths connecting the development to downtown, a range of family-friendly amenities, event space to support performances at the Capital City Amphitheater, and expanded public parking. "These experiences directly result in increased foot traffic, dwell time and human energy, which creates tremendous value for all uses—office, hotel, residential and retail," Weinert says.
While the grand opening of the first phase of that particular project is slated for late 2020, Weinert explains that retailers can no longer just sell products and developers can no longer just lease space. "Instead, it is about figuring out how to monetize the art of creating exceptional experiences for guests."
Fortunately for him and the rest of the industry, we are well on the way to doing just that. u
The Truth About Food Halls
Food halls have become the new black for experiential retail but developers are warned to be careful: it is a highly competitive business and has to be done right in order to be successful. That said, its business case cannot be denied. "As developers seek ways to mitigate the downward trend of traditional retail activity, food halls emerged, and in my estimation, will remain, a viable solution in 2019, spurring on-site activity among consumers despite e-commerce dominance via online shopping," according to Phil Lavoie, COO of the Gotham Organization."While research shows that digital shopping leads brick-and-mortar shopping activity among consumers, food halls satisfy a variety of intrinsic shopping desires that e-commerce simply cannot accommodate."
Julia Heyer, who founded Heyer Performance in 2009, has worked on more than 50 ventures in the food and beverage industry ranging from fast food casual to three-Michelin star chefs. "Done well, a food hall can be bigger than the sum of its parts, delivering a more expansive experience than a single, quick, casual concept," she said. An added benefit for the developer is that the hall can survive despite the occasional failure of a particular tenant, she notes.
But Heyer warns that there are limitations.
"The national average is approximately 400 people per restaurant, and the rate of restaurant growth exceeds the rate of population growth. The population to restaurant ratio only gets worse with the proliferation of food halls."
She points out there are limited consumer dollars to be spent. Saturation points are market specific. That means developers and prospective tenants should contemplate reasonable revenue potential given the market demographics and competitive landscape.
Food halls seem like fun and exciting ventures. But they are a far cry from a one-size-fits-all solution. Heyer sets forth a few key elements for a successful venture:
(1) It must have proper sizing for the market. Her company will statistically analyze a population's density, type, disposable income and specific spending patterns on food and beverage. Heyer Performance will then compare this overall spending to the number of other restaurants in a defined area. They'll consider what the market currently delivers in terms of revenue potential.
(2) The enterprise must have a value proposition narrative. Why would people want to go to your food hall? What makes it worth the trip? She adds that simply sticking 10 restaurants or concepts in a space won't work.
(3) The three main stakeholders: the landlord/developer/owner; the management firm; and the individual vendors must be able to financially succeed.
(4) There must be strong curation and a blend of concepts that supplement and do not cannibalize each other. Plus, there needs to be differentiation from the competition.
(5) The business model and lease terms have to work for the owner, tenant and management firm.
In addition, as with all businesses, food halls require good management.
The "If you build it they will come" concept is for a field of dreams, not the increasingly crowded field of food halls. Instead, Heyer's company provides services in new concept development and strategic positioning, design and experience guidance, market studies with competitive analysis, operational and facility advisory services, due diligence with feasibility studies, and financial projections with budgets.—Betsy Kim and Natalie Dolce
Investors Like Retail's New Pricing
The retail market has certainly undergone a dramatic change this cycle—but investors and owners seem to have figured the modern retail market out, focusing on restaurants and entertainment, daily needs and discount stores to drive foot traffic and, as a result, sales. While the market adjusted, retail pricing dramatically fallen in the interim, and now, savvy investors are finding strong returns in product that is undervalued.
"Retail had a significant shift in investor sentiment over the past two years. That is one of the single recurring discussions that we are having," Bill Fishel, senior managing director at HFF, said. "Investors are trying to figure out what types of retail is really going to work, and they are creating dedicated funds and new program ventures to chase those opportunities. There are going to be areas of opportunity within retail where we think that people are going to make a lot of money, while certain assets are not going to recover and will need to be repositioned into other product types."
The combination of retail market expertise and low retail pricing has created the potential for strong returns. "There is retail that is materially discounted that, in our view, really shouldn't be. When you can buy a secondary market convenience center with tenants in the discount space north of an 8% cap and very efficiently finance them, you can very quickly effectuate a double-digit cash-on-cash yield," Fishel says.
Investors aren't the only group that sees potential in retail. Debt capital sources have remained interested in the right retail deals. Fishel describes in-demand retail as a property with a dynamic tenant mix, quality location, experience sponsorship and an experience. "There is a lot of interest for properties that check the right boxes," he says. "While sales pricing has unequivocally reset, there is sustained demand on the debt capital markets side. For the right assets, without troubled retailers or credits that are in peril, you are able to very efficiently finance these assets." –Kelsi Maree Borland