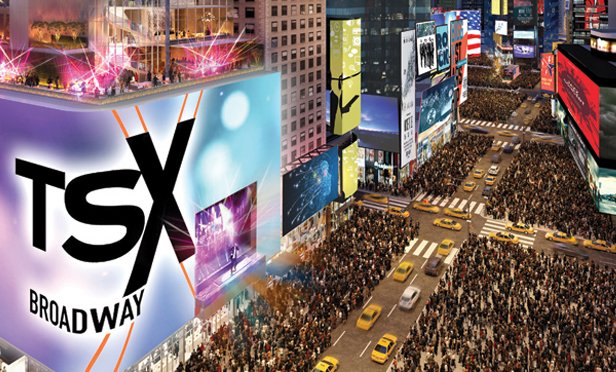 TSX Broadway is a mixed-use development that will be erected in the heart of New York City's Times Square. Scheduled to open in 2021, its location at 1568 Broadway is arguably the best in the country. Just ask David Orowitz, although as senior vice president of development at L&L Holding Co., he may be forgivably biased. L&L, along with Maefield Development and Fortress Investment Group, is developing the $2.5 billion project.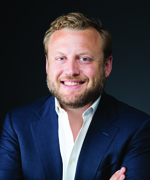 "The location is so unique," says Orowitz. "It's the best submarket. It's also the best signage market in the country. It's the best live entertainment market if you think about all of Broadway and the theaters. It's the best retail market as far as foot traffic."
The 43-story Doubletree hotel, although currently at 97% occupancy, will be demolished to construct a 669-foot, 700-room hotel. LED lighting will be on the building across the full 46-stories, along with an 18,000-square-foot wrap-around sign. A 75,000-square-foot leasable podium spanning 10 floors will provide an experiential attraction with retail, 30,000 square feet of food and beverage options, and a 10,000-square-foot terrace. L&L is also lifting the 105-year-old, 1,700-seat Palace Theater 30 feet into the air. It's restoring the theater's historic interiors adding modern technology.
With the neon and lights, TSX will be sporting some serious Las Vegas bling. Orowitz says there are lessons to be learned from that city as over the last 20 years it has moved from casino gambling and hotels to a broader range of experiences attracting a wider demographic.
"When Las Vegas was built it was like 'If you build it, they will come.' The difference is with what we have, everyone is already there. We just need to give them the right thing to look at and do," says Orowitz.
Experiential Hotels
There has been a trend among hotels—indeed among almost all real estate asset classes—in recent years to move away from commoditization and to providing experiences. This has resulted in the flourishing of hotels in niche markets such as Queens and Brooklyn, which now have become destinations unto themselves.
David Blatt, CEO of CapStack Partners, has worked with properties in trendier, slightly off-the-beaten-path neighborhood. For example, he recently arranged refinancing for the mortgage of the Ravel Hotel, in Long Island City, Queens.
"A lifestyle hotel is closer on the hospitality spectrum to a restaurant, lounge and club, and tends to draw locals as well as visitors. This creates authentic branding and a more diverse, sustainable revenue base," says Blatt. He focuses on projects in rising markets including Miami, Nashville, Atlanta and Raleigh-Durham. Those areas are seeing growth in both the millennial population and jobs.
"As a smaller lifestyle hotel, you are still walking the tightrope of competing with the resources of the big brand hotels and the Airbnbs which arguably offer a more authentic neighborhood experience," Blatt comments.
But whether it's a small hotel in a secondary or tertiary market or off Broadway, entertainment, leisure and hotels continue to evolve. Orowitz, for instance, says the biggest challenge in running TSX will be the constant re-imagination to keep moving forward. "With the podium, we don't see them creating a venue and leasing it for 20 years. That's not what Times Square is about," he says. "It's about entertainment, attraction and what's new, so that needs to constantly change."
A Mixed-Use Staple
As they embrace this ongoing change, hotels have also increasingly become a staple of mixed-use projects during this cycle. "Each component is driving its own demand, then you have synergies between the products," says Mark Van Stekelenburg, managing director, CBRE hotels' consulting. "They are all ways to increase utilization," he says. For example, instead of a large ballroom sitting empty for five days a week, it may be used as co-working space.
Brookfield's Manhattan West, to name one example, combines offices, restaurants, retail, public space, and residential and office towers. Similarly in Hudson Yards, the 92-story 35 Hudson Yards houses the 200-room Equinox hotel with its spa, and 143 condominium units. The property is also close to the 100 plus shops and restaurants complex.
A Change From The Last Recession
The roots of the change we are seeing today can be traced back to the end of the last recession when a boom in supply growth included the explosion of non-traditional lodgings such as Airbnb, hostels and micro-hotels, along with the concept of adding hotels to mixed-use developments.
From 2009 to 2017, US hotel bookings increased from $116 billion to $185 billion, according to Deloitte's "2019 US Travel and Hospitality Outlook" report. Van Stekelenburg says, since the bottom of the last recession to now, the US hotel market has added about 200 million occupied rooms. This tremendous growth was led by leisure demand.
It used to be for the hotel market that weekdays had the higher occupancy and higher rates than weekends. But now, that has switched. Nationally hotels are achieving a higher occupancy and higher rates on the weekends. "That just demonstrates how much the leisure travel side has grown with all these new users of lodging products," Van Stekelenburg says.
How to Build An Online Brand For A Hotel
Today, real estate is all about creating an experience. From office to multifamily and retail, it is clear that users want to be wooed into arriving and wowed upon arrival. While multifamily and office product has certainly evolved, retail assets have been the biggest proponents of creating an offline experience, and those that have done it well have benefited. Now, hotels are joining the trend, hoping to similarly drive occupancy. Hotels with the right branding are seeing an impact on revPAR.
For hotels, branding starts online. "Digital marketing is becoming more and more critical for hospitality assets as people rely increasingly on social media to affirm their travel choices," says Dan Palmier, CEO of UC Funds. All generations are connected to some extent, so a well-defined lifestyle brand will likely stand out among the plethora of similar hotel options available instantly on any smartphone."
UC Funds has renovated several hotel properties to curate a better experience and brand, including One Club Gulf Shores in Alabama and Residence Inn Stamford Downtown in Stamford, CT. On both properties, he developed online marketing campaigns to translate the new branding and drive occupancy. "Since One Club Gulf Shores largely targets the baby-boomer set we've developed a strong Facebook community presence to showcase our lifestyle offerings," says Palmier. "We partner with affinity sites like Gulf Shores Chamber of Commerce, Troon Golf, ESPN, vacation rental sites, and the large Gulf Shores Sports Commission to expand our footprint and align with similar lifestyle segments. We've also built out an info-packed website and multiple blogs touting our various amenities. Not only does this expand our social media presence, it also grows our SEO value while driving home the brand messaging."
Experiential real estate is often equated with capturing millennial audiences, but Palmier says that experience is universal today. All demographic segments want a unique experience. "While some might think this trend best fits millennial-geared hotels, I'm confident any brand with the ability to keep compelling, clear and consistent messaging across multiple channels can position itself as a lifestyle brand. Residence Inn and Courtyard are both Marriott-branded hotels," he says. "I've developed great respect for Marriott's strong positioning as a hospitality option for business travelers, individuals, or families. It's providing a one-stop-shop for travelers, a feat I very much admire as an entrepreneur."
The trend impacts all hotel sizes, as well, from larger hotels and chains to boutiques. "You don't have to be as large as the Marriott brand for success," adds Palmier. "We provide billions of capital coast to coast as a sophisticated financial ally to those whom have similar visions surrounding service and amenities as us." —Kelsi Maree Borland
BEHIND THE INCREASE IN HOTEL TRANSACTIONS
For the first three quarters of last year, hotel transaction volume in the United States reached $29.7 billion, more than a 25% year-over-year increase, according to JLL.
There are several reasons for this, according to John Strauss, senior managing director and co-head of Americas Hotel Capital Markets for JLL: The industry got a boost of energy in part because of tax reform, for starters. Also, hotel performance tends to track and is tightly correlated with GDP. The growth of the last year or so has created momentum in the hotel sector's underlying fundamentals–hence the strong appetite for investors to buy into this sector, he says.
Private Equity Leads the Way
But who are these investors? Not surprisingly, given their ubiquity across the commercial real estate asset classes, for the first three quarters of 2018 private equity represented 37% of hotel acquisitions in the United States, or $11 billion. This compares to 30% ($7.1 billion) for all of 2017.
One reason for their stepped up presence, according to JLL, is that private equity groups have more capital than they've had in the past, allowing them to pursue a wider variety of investment strategies related to hospitality, ranging from core plus to opportunistic plays.
"Private equity has gone on the offensive in last couple of years," broadening their strategies by targeting full service hotels and portfolios, Strauss says. "Select service and primary markets were once the main focus of private equity but as we got into these later stages of the cycle, private equity has gone after resort hotels, bigger convention and meeting space"—categories that have experienced little to no new supply because of lack of construction financing.
"So they've become the dominant player this year for these assets, writing big checks" of around $500 million to $1 billion in transaction sizes, he says.
Other Groups
There are several other groups who are also demonstrating a strong appetite for hospitality product, JLL reports. Development companies became more active in the first three quarters of 2018, accounting for 13% ($4 billion) of hotel acquisitions, compared to 10% for all of 2017.
REITs as well were active in 2017 and 2018, Strauss says, but they are more cautious than other buyers right now. "They've always been always a disciplined buyer pool." Strauss estimates that 50% of REITs were buying offensively on a selective basis last year. REITs compromise 25% of the buyer mix YTD.
Other buyer groups that are well capitalized include owner operators like Hyatt. The company is growing their portfolio by taking advantage of tax exchanges, Strauss says.
Foreign buyers as well are active. JLL reports that offshore activity slightly increased last year: 2018 figures show offshore capital was equal to $4 billion of US hotel acquisitions, compared to $3.6 billion over 2017.
Strauss notes while China has become a net seller of hotel assets, the US is seeing investors from other Asian countries as well as from Europe and the Middle East. These investors are very active but they tend to limit themselves to the top 5-7 strongest US markets.
And finally there are the high net worth families and individuals investing in the space. "Given the yield premium for hotels you will always have this group buying assets depending on location and motivation," Strauss says. —Erika Morphy