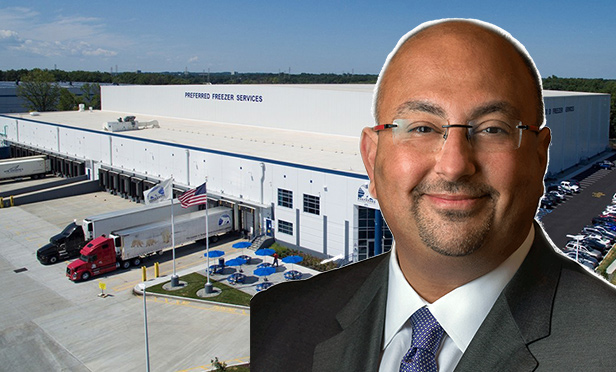 AVENEL, NJ—In what may be a new loan valuation high for cold storage facilities financings, Holliday Fenoglio Fowler has arranged a $35.75 million refinancing for a fully leased, 182,154-square-foot, class A, state-of-the-art cold storage facility at 275 Blair Road in Avenel, NJ.
Advance Realty Investors and Greek Development, which partnered on the construction of the property, will use the loan to retire an existing construction loan and return capital to the partnership. HFF declined to identify the lender underwriting the loan, which translates into $200 of loan per square foot, one of the highest such loan valuations. Greg Nalbandian, senior managing director on the HFF team, tells GlobeSt.com exclusively that the financing suggests cold storage properties are likely to become a bigger focus for investors in the industrial asset class.
"It's really a growing industry within the overall industrial sector," he says. "It's a higher fit-out and finish with the cold storage features. The lender did an outstanding job understanding the cold storage industry's growth as a submarket within the red-hot industrial sector."
The loan includes some unusually attractive terms for Advance and Greek, Nalbandian says. The partnership only pays interest on the loan for the first five years, and for the second five years of the 10-year term, the loan is based on a 30-year amortization schedule.
"We were a little bit ahead of the curve in terms of understanding where values are headed in this cold storage subsector," he says. "It was certainly a bellwether deal that you don't otherwise see that often, because of the high loan per foot value."
The property was constructed in 2015 as a build-to-suit for the tenant, Preferred Freezer Services, the third largest provider of refrigerated warehouses company in the world. The asset features one fully refrigerated building with 60-foot clear heights and 24 docks with air-tight seals. 275 Blair Road is less than three miles from the New Jersey Turnpike's Exit 12, providing direct access to New York City, the rest of New Jersey and the state's economic drivers, including Newark Liberty International Airport and The Port of New York and New Jersey.
The HFF debt placement team representing the borrower also included senior managing director Jim Cadranell and analyst Andrew Zilenziger.
Correction, 4/25/2019, 8:57 a.m.: Because of an editing error, an earlier version of this story mischaracterized the loan as having valued the property at $200 per square foot. The property is actually valued at about $300 per square foot. The loan value of $200 in financing per square foot is one of the highest for loans in this sector, not a new high.