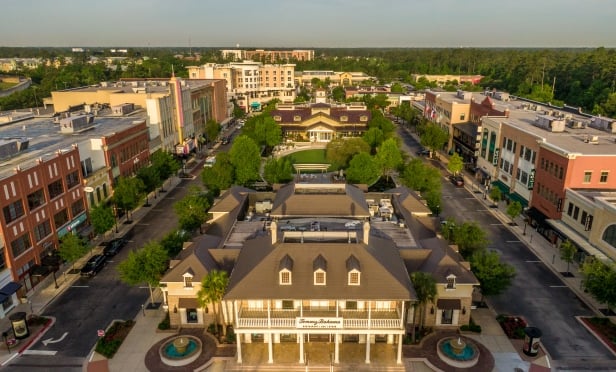 THE WOODLANDS, TX—The Woodlands has completed a comprehensive makeover of its shopping, dining and entertainment destination known for its collection of first-to-market retailers and restaurants as well as class-A office space. Designed by noted architect 505Design, the eight-month project revitalized Market Street's Central Park, the focal point of the 560,000-square-foot mixed-use property.
Attention to detail was given throughout the planning of the project from the outdoor art structures selected for Central Park to the paint colors chosen for parking garage signage. Natural grass has been replaced with weather-resistant and ecologically sustainable synthetic turf to create a setting suitable for year-round festivals, concerts and other gatherings. New seating areas, pergolas, sustainable lighting systems, and an interactive water feature and deck have also been added. Other additions include enhanced landscaped pedestrian pathways with parking and traffic management improvements, shaded areas along with all new furniture, renovated restrooms and water bottle fill stations.
Market Street opened in November 2004 as one of the Houston area's first outdoor lifestyle mixed-use properties, the result of critical study of the country's best open-air urban-styled projects, plazas, parks and fountains. Besides providing The Woodlands and North Houston with a thriving Town Center core, Market Street has successfully captured the essence of place making.