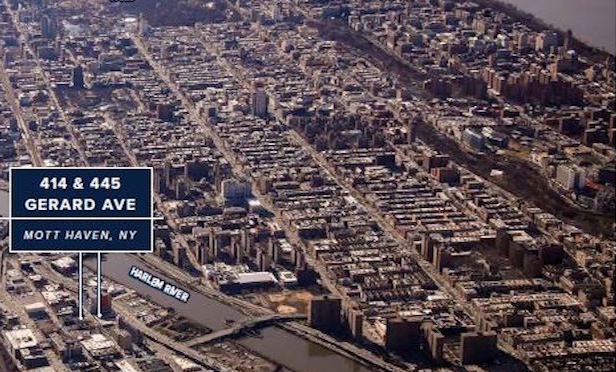 NEW YORK CITY—The Domain Companies has purchased two sites totaling 44,500 square feet at 445 Gerard Ave. and 414 Gerard Ave. in the Mott Haven neighborhood of the Bronx. The seller was Treetop Development and the purchase price was $38.5 million.
Encompassing four lots in a southwestern area of the Bronx, the sites will allow for the development of an approximately 428,906-square-foot, mixed-income, mixed-use residential property. As Domain specializes in development of mixed-use properties and sustainable design in core urban locations, the acquisition is a continuation of their efforts to expand in the New York market.
The sites are located within an Opportunity Zone, within a special mixed-use district. Domain is planning for both sites to be a part of the New York State Brownfield Cleanup Program and for the development to include a minimum of 25% affordable housing.
In 2009, to allow for more residential and commercial development, the city rezoned Mott Haven, which historically was an industrial and manufacturing neighborhood. In 2015, Mayor Bill de Blasio announced a $194 million investment focusing on the "Lower Concourse North" area. This included street improvements and open space near the Harlem River.
"We're looking forward to growing within and alongside the Bronx community with these recent acquisitions," says Matt Schwartz, co-CEO of the Domain Companies. "Domain takes pride in developing impactful, high-quality projects and shares the city's dedication for investing in, and engaging with the community."
The deal represents the development and management firm's fourth and fifth acquisitions in the New York City-area over the last 18 months. Domain has worked in several rezoned neighborhoods throughout New York City and has experience in creating mixed-income housing and remediating brownfield sites.
With similar projects, Domain recently purchased three sizable redevelopment parcels at 553 Sackett St., 545 Sackett St. and 420 Carroll St. in Gowanus. Its developments also include Eleven33 in Greenpoint, Brooklyn, a LEED-Gold certified, mixed-income apartment complex that was also a part of the New York State Brownfield Cleanup Program.
Equity partner Hunt Real Estate Capital, senior lender Centennial Bank and mezzanine lender Sherwood Equities provided financing for the Mott Haven acquisitions. Christopher Peck at HFF arranged the $30 million in acquisition financing from Centennial Bank and Sherwood Equities. Newmark Knight Frank served as the investment sales broker.
David Behin, executive managing director at Newmark Knight Frank, says under the Opportunity Zone program, Mott Haven was a natural location for Domain to increase its footprint. He notes the neighborhood is developing rapidly, and has a convenient commute to Midtown Manhattan, access to green space and diverse housing options.