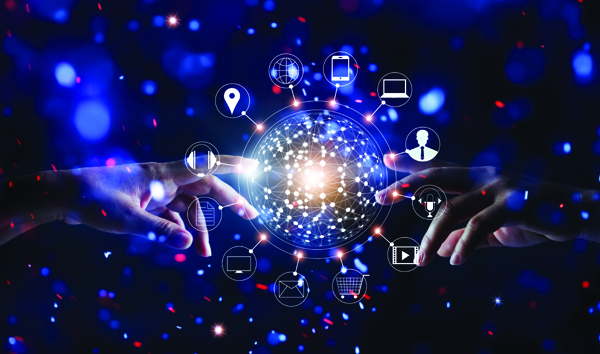 Since 1971, Marcus & Millichap has provided the commercial real estate industry with a multitude of investment services. As a leader in the private client market segment, which comprises approximately 80 percent of all commercial property sales, Marcus & Millichap is the nation's most active commercial real estate firm focused on brokerage and financing. The firm's industry-leading Net Leased Properties Group and National Retail Group are major influencers in the retail commercial property sector. Scott M. Holmes, Marcus & Millichap senior vice president and national director, retail leads both divisions.
Blending of Online and In-Store Retail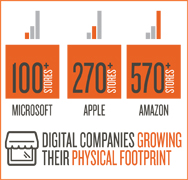 The retail sector has undertaken a dramatic transformation to better compete in the digital age. Retail businesses are leveraging their core strengths while bolstering online systems and capabilities to seamlessly integrate the convenience of e-commerce with in-store expertise at brick-and-mortar locations. This offers customers a multi-dimensional platform that makes shopping a more diverse experience. Concepts like in-store pickup and home delivery have been popularized by the blending of physical and online retail, offering consumers a combination of shopping channels. While the internet has historically struggled to find its place within physical retail, new omnichannel integration is helping them mesh, creating new opportunities.
Retail Categories that are Thriving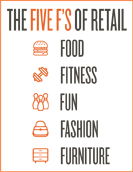 Retail spending has fluctuated during the past few years as the sector's transformative stage has impacted in-store sales. However, several categories have outperformed during this evolutionary transition. Food and drink establishments continue to attract customers and consumers now spend more dining out than they do at supermarkets. Experiential layouts have driven higher foot traffic at bars and restaurants, even growing the segment to near-anchor status for some retail centers. Fitness clubs and fun retailers, such as bowling alleys and trampoline parks, are also posting considerable growth. With an increasing number of traditional big-box retail vacancies, these larger-format businesses have a range of expansion options available. Furniture vendors and fashion clothiers are also witnessing strong sales as disposable income levels have reached new highs.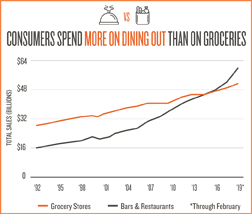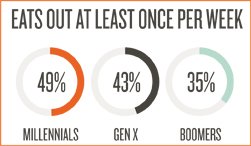 Retail Categories that are Struggling
The new age of retail has prompted companies to reevaluate their business models. High-inventory layouts are no longer effective as showroom-style concepts provide more economic value and cater more closely to current consumer preferences. With many department stores continuing to operate with an outdated model, sales have taken a hit, falling 12 percent over the past five years. The closing of many department store chains has left numerous malls unanchored, forcing owners to creatively fill empty space. Sporting goods stores have also struggled to evolve with the retail landscape. Several of these retailers, while popular as showrooms where consumers can test products before they buy, have difficulty offering prices that effectively compete with online marketplaces. This has thinned the sporting goods playing field, leaving only chains with the most sophisticated omnichannel platforms.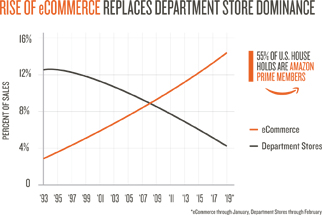 Why Retail is Gaining Despite Record Store Closings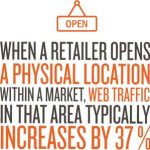 The wave of store closures to start 2019 reinforced the notion that retail is still in a transformative phase. While closed stores may hurt some owners in the short term, longer-term effects of more efficient retail business models will be beneficial. The rise of e-commerce has helped some companies realize they're overstored, encouraging them to cut excess locations to run more efficiently and improve operations. This may include trimming employee counts or closing unprofitable locations. Despite this, most retailers still understand the importance of a physical presence even with climbing online sales. A brick-and-mortar store builds trust and engagement with customers, offering them a place to ask questions, test new products and return merchandise they purchase online. When a retailer opens a physical location within a market, web traffic typically increases by 37 percent in that area, reemphasizing the value of real-world engagement.
Retail Embracing Technology Faster than Other Industries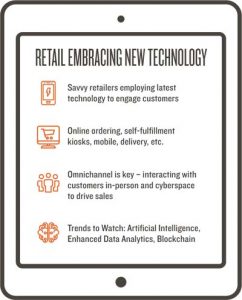 The retail sector is embracing new technology at an accelerated pace, largely driven by the substantial competition of e-commerce. Technological advances are reinventing the retail landscape, creating entirely new paradigms. Digital storefronts, mobile ordering, and automation are just a few innovations changing the way consumers and retailers interact. Fields like artificial intelligence (AI) and blockchain are poised to further disrupt the industry. Global spending on AI services by retailers is forecast to reach $12 billion by 2023, as the adoption race heats up. Well-equipped, early movers will displace slower-transitioning retailers, providing better service at optimized price points. Amazon was one of the earliest movers, creating machine learning technology in the Alexa voice platform that has turned the shopping experience into a conversation. In addition, a new Amazon application called SageMaker now allows third-party companies to rent AI tools, permitting businesses to bypass in-house development costs.
Baby Boomers Look to Single Tenant Net Lease as Strategic Investment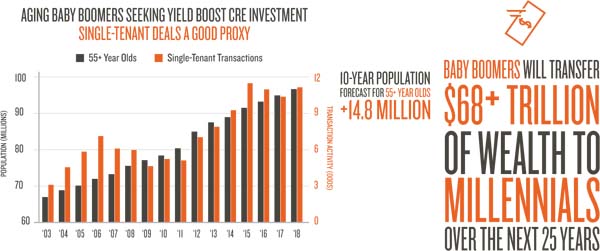 As baby boomers push closer to retirement, many are utilizing the 1031 exchange to migrate their real estate investments into lower management opportunities. A wide range of retirement-age investors are favoring net-lease retail properties, where owners receive monthly bond-like rent checks backed by top-tier corporate brands without having to operate, maintain or lease the property. Due to the ease of capital migration and like characteristics of this asset class, owners can deploy capital nationwide for the very best assets and locations. This creates unparalleled liquidity for investors in the secondary market as well, since other potential buyers can easily assess lease terms and credit quality without having to visit and evaluate the specific property. Portfolio diversification is made simpler with these dynamics, dispersing risk as the current cycle extends.
Companies Step Out of Cyberspace to Capture Brick and Mortar – and Vice Versa
Retail has evolved past the idea that either online or brick-and-mortar stores will survive, as both sides move closer to an omnichannel concept. A growing number of digitally native brands are stepping into brick-and-mortar locations as they realize the effect physical stores can have on their bottom line. Online startups including Bonobos, UNTUCKit and Warby Parker are aggressively opening stores, while tech heavyweights Amazon, Apple and Microsoft also place an emphasis on their physical footprints. Conversely, brick-and-mortar retailers are quickly growing their digital infrastructure to achieve stronger omnichannel models. Walmart and Home Depot have considerably increased their online presence, making them close competitors with some well-established e-tailers.
Migration of Capital
As the business cycle has matured, investors have utilized portfolio diversification strategies and interstate capital flows to boost returns. The Sunbelt remains the focus of investment as many markets in this region are experiencing high growth, providing opportunities to a number of buyers. Yield-driven investors have been more focused on locations throughout the Midwest, where buyers pursue cap rates well above the national average. Major coastal cities remain the primary sources of capital as extremely large populations and deep financial services markets provide both institutional and private clients access to multiple opportunities. Additionally, cap rates in these markets remain very tight, encouraging buyers to undertake strategies to enhance the yield in their portfolios.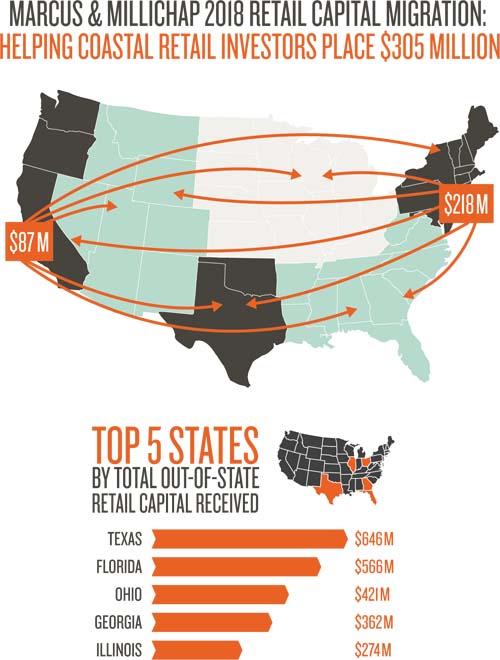 The Fundamentals
The retail sector has made significant gains since the last recession, with multi-tenant vacancy dropping below 6 percent and rents nearing prerecession highs. Tapered-back construction efforts have supported improving fundamentals as developers and lenders have taken caution after vastly overbuilding in the last business cycle. During that span, annual retail completions averaged 150 million square feet, whereas the current expansion features just over 50 million square feet of new space each year. Single-tenant retail comprises most deliveries; however, the share of multi-tenant space has substantially risen each of the past two years. This points to higher developer confidence in the direction of the retail sector as omnichannel models become the standard.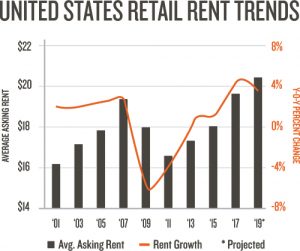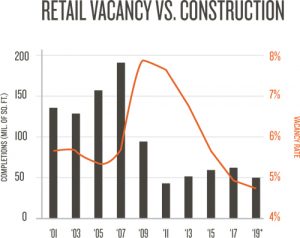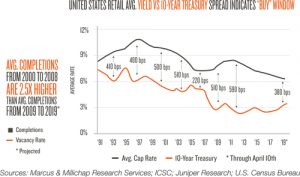 Sources: Marcus & Millichap Research Services; ICSC; Juniper Research; U.S. Census Bureau Analysis and commentary for this feature was provided by Marcus & Millichap's national director of retail, Scott M. Holmes, and Marcus & Millichap Research Services. Additional information collected from Marcus & Millichap Research Services, U.S. Census Bureau, The Heartman Group, Pew Research, Morgan Stanley, IHL Group, CoStar Group, Inc., Real Capital Analytics, Moody's Analytics, Federal Reserve, Cerulli Associates.