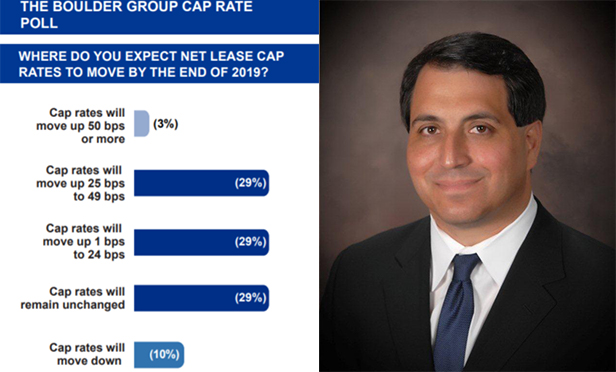 WILMETTE, IL—The projected slowdown in 2019 of rising interest rates by the Federal Reserve is having an impact on the general sentiment of the net lease investment market as well as overall activity levels, according to the Q1 Net Lease Market Report issued by Chicago-based The Boulder Group.
In a follow-up to its year end Cap Rate Prediction Poll, The Boulder Group found that the%age of investors expecting a cap rate increase of at least 25 basis points by the end of 2019 was cut in half to 29% versus 62% at year end. In fact, investor sentiment has shifted substantially toward a stabilized cap rate consensus. According to The Boulder Group Report, 39% of poll participants expect cap rates to remain unchanged or compress in 2019, versus only 5% in the last poll at year end.
"In 2018, net lease investors expected the Federal Reserve to continue raising rates in 2019 which caused a pause for some investors," says Randy Blankstein, president, The Boulder Group. "A more favorable monetary policy by the Federal Reserve, as it relates to interest rates, should provide additional certainty in the net lease markets and result in stronger activity."
The Boulder Group's Net Lease Market Report explains that the movement toward stability of interest rates caused the 10-year Treasury yield to maintain a level between 2.40 and 2.70% throughout the first quarter after breaking the 3.00% level in 2018. The movement in interest rates has resulted in more favorable borrowing costs and investment returns for buyers of net lease.
"Buoyed further by this change, investor demand for the net lease assets remains strong as investors continue to seek yield and passive real estate investments," says Blankstein.
Another positive barometer of the net lease marketplace is the number of properties being listed for sale. Following quarterly increases in property listings throughout 2018, the number of listings was down by 7.3% during the first quarter, from almost 5,600 in the fourth quarter to 5,189 in the first quarter. The decline was due to a significant, 8.6% reduction in the number of retail net lease properties.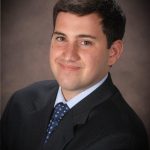 According to John Feeney, vice president, The Boulder Group, the significant reduction in the number of listed properties is due primarily to an increase in net lease transaction volume in 2018. Year-end sales volume exceeded $62 billion which was a 9% increase when compared to the prior year, according to statistics from CoStar.
"In advising clients on the buy side of the equation, we are focused on a few core or critical areas," Feeney tells GlobeSt.com exclusively. "The primary focus is the overall real estate (i.e., traffic, ingress and egress as well as position within a market, etc.). The second area of focus is the in-place rent when compared to the immediate market. Our strategy is to make sure our clients aren't buying properties with artificially inflated rents. Lastly, we look into demographic trends and tenant credit health."
According to further findings of The Boulder Group Report, during First Quarter 2019, there continued to be fluctuations in national asking cap rates for single tenant properties in the primary real estate sectors. For retail properties, the asking cap rate increased 2 basis points during the first quarter to 6.27%. While the rate is up 17 basis points since First Quarter 2018, it is up only seven basis points since Second Quarter 2018.
"A lot of investors are focused on income tax free states and primary metro markets," says Feeney. "However, in today's market, investors with patience can find more favorable returns in secondary markets. On a state by state basis investors are being more selective than ever regarding balance sheets and debt obligations of individual states."
Single tenant industrial properties showed a national asking cap rate decrease of 9 basis points from year end to First Quarter's rate of 7.00%. The rate has remained relatively unchanged since Second Quarter's rate of 7.04%. The current national asking cap rate for office properties is 7.10%, an increase from 7.02% last quarter and 10 basis points from a year ago when the rate was 7.0%.