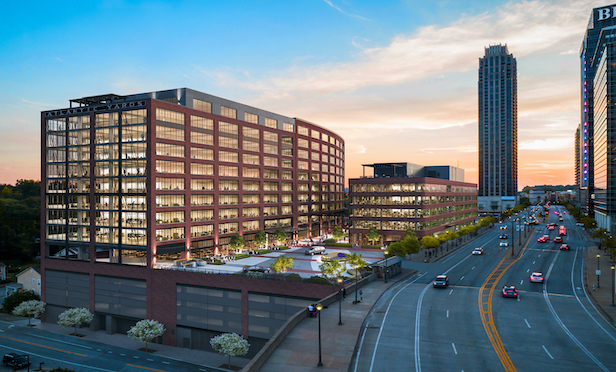 ATLANTA—Real estate investment firms Hines and Invesco Real Estate have launched construction on the Atlantic Yards office development here within Atlantic Station.
The 500,000-square-foot office development in the West Midtown submarket along the 17th Street corridor, will consist of two distinct buildings. Hines is headquartered in Houston, while Invesco is based in Atlanta.
The development is engineered to accommodate density up to 100 square feet per employee. Atlantic Yards will offer ground-level retail, a state-of-the-art fitness center, rooftop terraces, private green space, and social shared spaces.
Slated for completion in late 2020, the Hines team is working with Hartshorne Plunkard Architecture (HPA) as the design architect, Wakefield Beasley & Associates (WBA) as the architect of record, and New South Construction as the project's general contractor.
"Hines and its partner were drawn to the exceptional visibility of the Atlantic Yards site and the rare opportunity to develop a truly unique product that incorporates the historic industrial soul of the old Atlantic Steel Mill into a state-of-the-art office experience with market leading tenant engagement attributes," says John Heagy, senior managing director of Hines. "By building Atlantic Yards now, Hines is able to quickly fill the void the market is experiencing for highly attractive, highly efficient West Midtown office product. Atlantic Yards will satisfy the needs of today's discerning tenants, providing the highly differentiated offering for which they are searching."
Hines and Invesco are also developing T3 West Midtown, the 230,000-square-foot heavy timber office development adjacent to Atlantic Yards, which is slated to be delivered this fall.
Both Atlantic Yards and T3 West Midtown are part of a larger transformation underway at Atlantic Station, the developers note. The redevelopment of Atlantic Station will reintroduce the retail village to the marketplace with its state-of-the-art central green and collaboration spaces, enhanced tenant mix, new retail and restaurant offerings, additional hospitality options, and the inclusion of new multifamily residential units.
Hines did not disclose the development cost for the Atlantic Yards or the T3 West Midtown projects.
"Hines has complete confidence in the city's growing office market, and we believe the progressive and unique work place product that we are developing is perfectly suited for the Midtown market at a time when its office market fundamentals remain incredibly solid," states Tori Kerr, managing director of Hines and development officer for both Atlantic Yards and T3 West Midtown.