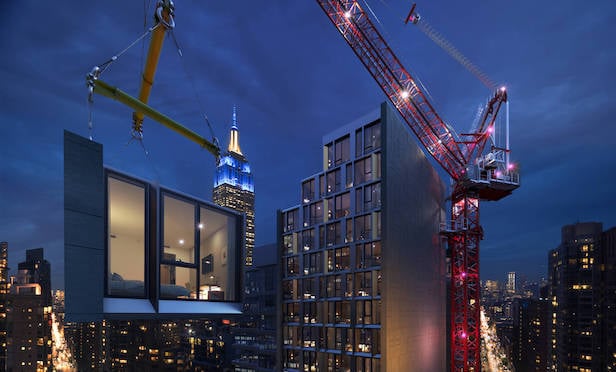 NEW YORK CITY—AVANA Capital has provided a $65 million construction loan to 842 Enterprise, which plans to build the world's tallest modular construction hotel in the world. The Chun family runs the development firm that is creating a 26-story, 385-foot tall,168-room AC Marriott Hotel using a method of stacking pre-built rooms. The total construction cost for the hotel is expected to be $110 million.
Construction of the project at 842 Sixth Ave. between W. 29th and W. 30th streets in the NoMad neighborhood began last month. It's anticipated to be completed in 2020.
"We see great demand for a quality limited-services hotel in this location," says Robert Chun, president of 842 Enterprises. "We are very pleased that we found in AVANA Capital a partner that believes in our vision." He notes AVANA made a point to learn about steel frame modular construction. Sundip Patel, the CEO of the commercial real estate debt fund AVANA, visited the manufacturing plant in Krakow, Poland to assess the risk controls and whether the standards of New York City's building department would be met.
George Saba, AVANA's head of marketing, tells GlobeSt.com that the developers hired Skystone Group who has subcontracted with the manufacturer in Poland. The architect is Danny Forster & Architecture, which is well known for Forster's hosting the TV show "Build It Bigger" on the Science Channel.
Saba explains with modular construction, entire completed rooms will be assembled in Poland and brought to New York. On site, construction crews will stack the units on top of each other, creating the full 26 floors of the building.
Saba says, "Marriott has been very aggressive in building modular hotels which are quicker to assemble and save substantial time and money in construction." He adds they are quieter than many hotels because each unit has its own separate walls, ceilings and floors. This provides double the insulation. The AC Marriott Hotel in NoMad will have 210-square-foot rooms with king-sized beds and 230- to 280-square-foot rooms having queen-sized beds.
Currently, the tallest modular hotel in the world that's up and running is the citizenM New York Bowery Hotel at 189 Bowery in Manhattan. Stephen B. Jacobs Group Architects and Planners designed the building. The Rinaldi Group headed by president Anthony Rinaldi states their team built the hotel in six months. At 246 feet high, with 19 stories, it offers 300 guest rooms which are 150 square feet.