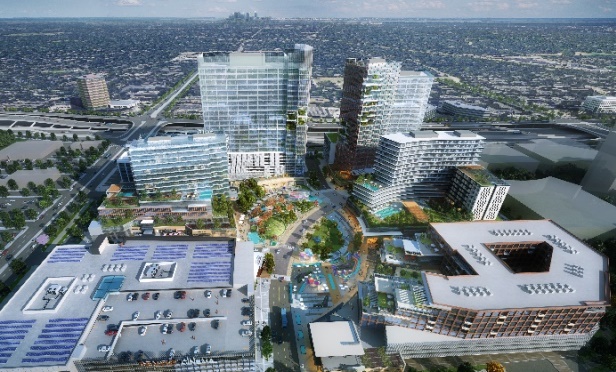 DALLAS—Construction has commenced on Park Heritage, a project of up to 2 million square feet on the site of the former Valley View Mall. The live-work-play development will connect Dallas' North suburbs with Uptown and downtown. Moreover, it falls within the 430-acre Midtown Dallas Redevelopment Zone.
This project will start with the demolition of the former Sears building and automotive center, followed by significant infrastructure investment and road network. Seritage Growth Properties, in partnership with KDC and Toll Brothers Apartment Living, are teaming up on the project.
Seritage was formed and listed on the New York Stock Exchange in July 2015 in conjunction with the acquisition of a portfolio of real estate from Sears Holdings. The company is Park Heritage's master planner and developer.
KDC will construct up to 1.8 million square feet across two high-rise office buildings. Toll Brothers Apartment Living will construct the first phase of apartments totaling approximately 300 luxury residential rental units. In addition, there will be 361,560 square feet of total retail, dining and entertainment space in this walkable community, GlobeSt.com learns.
"We are thrilled to start construction on Park Heritage, and bring renewed energy and an iconic project to an area of Dallas that is ready for it," said Bill Guthrey, SVP and partner at KDC. "This project will be the new centerpiece of the LBJ Corridor already known for its bustling business district and the Galleria."
In addition to unique street and larger format retail, entertainment and dining, Park Heritage will feature 3 acres of open space that serves as a central community hub. Park Heritage will be situated in one of the busiest areas in Dallas-Fort Worth at the intersection of the LBJ Freeway and Preston Road, providing access to the area's major thoroughfares that are traveled by more than 350,000 cars per day.
"Park Heritage vertical construction is planned to begin early next year, once the demolition is complete this year," Guthrey tells GlobeSt.com. "In a separate project, Beck Ventures is developing the other portions of Valley View Mall."
Seritage Growth Properties is a publicly traded, self‐administered and self‐managed REIT with 206 wholly owned properties and 26 joint venture properties totaling approximately 36.3 million square feet across 48 states and Puerto Rico.