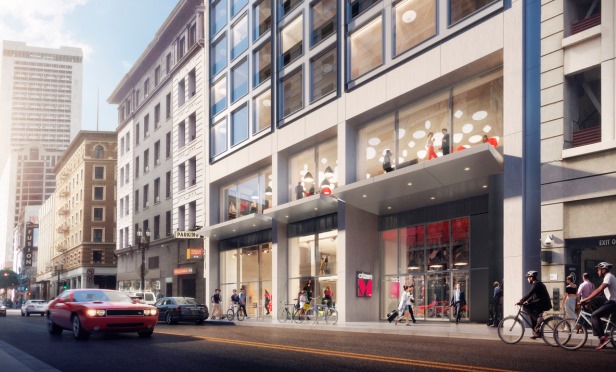 SAN FRANCISCO—citizenM, known for its affordable luxury hotels, has a new hotel underway in Union Square at 72 Ellis St., its first location in California and one of three in the Bay Area. The 195-room hotel with a rooftop public space adds to the two new citizenM locations in New York City and two opening this year in Boston and Seattle.
citizenM's ambitious rollout, which by 2020 will reach 40 properties either open or in development globally, more than doubling its current portfolio. In North America alone, citizenM is already under development with a dozen hotels in markets that also include Washington, DC, Los Angeles and Miami. The company's approach starts with selecting well-connected locations in the world's most popular cities, so business and leisure guests spend the shortest possible time commuting.
"Our site selection process is fairly simple: We look at the world's largest cities and locations where culture and commerce intersect, where the prime sites allow our guests to not only walk to destinations such as Moscone Center but just as easily the Orpheum or the American Conservatory Theater," says Ernest Lee, head of development and investment for citizenM. "Like so many others, we were attracted to San Francisco because of its rich history through its role in civil rights, counterculture and innovation. We hope to integrate ourselves into the neighborhood, and through jobs, tax revenue and the arts, offer back as much as we take in from this incredible city."
The citizenM San Francisco Union Square hotel is designed by the Amsterdam-based firm Concrete, a long-time partner of citizenM. The project team recently broke ground on the 12-story new building, led by design, planning and architecture firm Gensler and Webcor, general/specialty contractor.
"San Francisco is a great market for the citizenM hospitality experience, and we will bring its innovative and unique brand to life," says Tom Soohoo, Webcor vice president. "This project is highly collaborative, and our self-perform teams for concrete, drywall and interiors will be instrumental throughout the build. Along with our project partners, we are thrilled to contribute to San Francisco's most imaginative, affordable luxury hotel that values comfort and connectedness with our city's cultural experiences and downtown core."
Since its founding in 2008, citizenM has upended the rules of traditional hospitality by introducing the concept of "affordable luxury for the people," offering guests all the luxuries they would expect from a high-end hotel in a prime location, but without sky-high prices. Each property offers high-tech amenities, comfortable guest rooms and inviting living areas filled with contemporary art, all at an affordable price.
All guestrooms have wall-to-wall XL king-sized mattress and luxury bedding. HD TVs offer a library of on-demand movies, plus streaming options via free superfast Wi-Fi. A rain shower with full-size shower gel and shampoo will conclude with giant fluffy towels. The room ambiance–the blinds, the TV, even the lights with changeable colors–will be fully controlled by an iPad.
"When we were looking for our San Francisco location, it became clear very quickly that Union Square is an exceptional destination," says Rattan Chadha, the founder of citizenM. "We don't want to be just another building; we want to become part of the neighborhood's fabric while showing San Francisco's visitors a different side of the city. Even the art we use will be drawn from the local art scene, as well as international contributors."
The new San Francisco location will have a public lobby area and outdoor terraces with 1,200 square feet of privately owned public open space on its rooftop. Other amenities include a fitness center, meeting space, and 6,100 square feet of varied retail uses on its ground floor and mezzanine.
"The new citizenM hotel is a great example of how a project can be successful through good partnerships, collaboration and trust. A global brand, we are working with architects from the Netherlands, Seattle and San Francisco, and we're sourcing air-handling units from Sweden and custom millwork from both the Netherlands and Minnesota," Soohoo tells GlobeSt.com. "While this project was originally designed as a modular structure, citizenM enlisted Webcor and key partners to guide a full redesign of the hotel as a concrete, site-built building that was comparable to the original floorplan. The flexibility and trust among team members made the process both successful and rewarding. We are in the construction phase; one step closer to bringing a new concept hotel to San Francisco."
citizenM intends to keep growing as a fully integrated owner-operator in selected gateway cities around the world. In addition to citizenM's established pipeline in the largest US cities, the company is eyeing further afield, and will consider expanding further into its existing markets, as well as new markets such as Toronto, Chicago, Austin, Silicon Valley, Nashville and Denver. citizenM considers ground-up development sites, office conversions, components of large mixed-use projects or conversions of existing hotels. The company will also selectively consider "asset light" transactions.
The first citizenM hotel opened at Amsterdam's Schiphol Airport in 2008, followed by citizenM Amsterdam in 2009, citizenM Glasgow in 2010 and citizenM London Bankside in 2012. Rotterdam, New York and Paris locations followed in 2014. In 2016, two more hotels were added to the London portfolio: citizenM Tower of London and citizenM Shoreditch. In 2017, citizenM opened Paris La Defense and Paris Gare de Lyon hotels. Also in 2017, the company moved into the Asian market, with its first location at Taipei North Gate. citizenM New York Bowery welcomed guests in autumn 2018.
According to the recently released 2019 edition of Trends in the Hotel Industry by CBRE Hotels Americas Research, total hotel operating revenue increased by 2.6% in 2018 for the average hotel in its survey sample. Managers were able to limit the growth in operating expenses to 2.8%, thus allowing for a 2.3% increase in gross operating profits at the Trends properties. The 2.8% growth in expenses is less than the long-run average of 4% during the past 40 years. However, it is greater than the 1.8% average annual growth rate achieved the past two years, says the report.