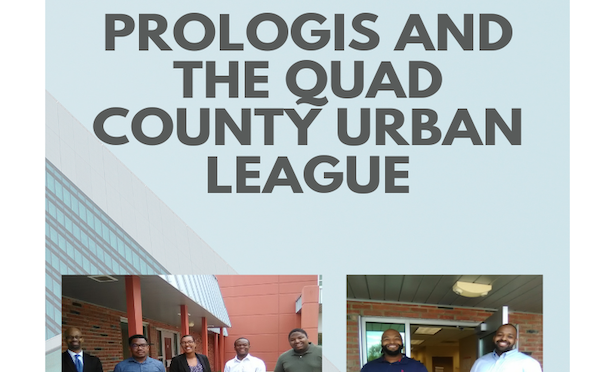 CHICAGO—Logistics real estate firm Prologis has successfully launched its first community workforce initiative in the City of Chicago.
The San Francisco-based company partnered with the Quad County Urban League on its "Propel by Prologis program, which is part of the company's Prologis Community Workforce Initiative that expands work-based learning opportunities for those interested in careers in logistics, distribution and transportation.
The first class of students graduated from the program on May 9, as part of the inaugural cohort of "Propel by Prologis." Prologis plans to continue CWI programming in Chicago later this year, the company reports.
"As more of our customers face a hiring gap in the logistics industry, Prologis recognizes the important role job training programs play in building a qualified, diverse workforce," says Edward S. Nekritz, chief legal officer, Prologis. "The collaboration between Prologis and organizations like the Quad County Urban League provides individuals with an opportunity to gain critical skills in high-demand sectors while furthering economic growth at a local level."
"We have enjoyed this collaborative effort with Prologis in developing a job-readiness program called 'Propel by Prologis,'" says Theodia Gillespie, president and CEO of the Quad County Urban League. "The synergy created by this newest partnership has the potential to make a tremendous socioeconomic impact on the individuals and communities which we serve."
"Propel by Prologis" marked Prologis CWI's first initiative in Chicago. The Quad County Urban League, established in 1975 to address the need for job training, equal access to employment and the educational enrichment of primarily low-income and minority citizens, designed the three-week program to prepare candidates with hands-on training for positions in material handling, inventory management, logistics and customer service. The curriculum, which included input from Prologis' employees and customers, also incorporated job shadowing opportunities, employability skills development and financial literacy workshops.
Prologis CWI has also implemented programs in Los Angeles and Miami.
Prologis as of March 31, owned or had investments in, on a wholly owned basis or through co-investment ventures, properties and development projects expected to total approximately 772 million square feet (72 million square meters) in 19 countries. Prologis leases modern distribution facilities to a diverse base of approximately 5,100 customers across two major categories: business-to-business and retail/online fulfillment.