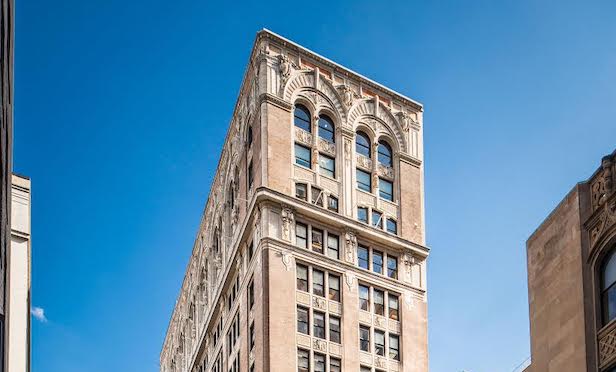 NEW YORK CITY—ATCO Properties & Management has signed a 14,000-square-foot lease in its boutique office property at 381 Park Ave. South to 21GRAMS. The asking rent in the Flatiron District building that's situated between E. 26th and E. 27th streets is $62 to $65 per square foot.
The healthcare communications and advertising agency will sublease a portion of the fifth floor from the business support services company Williams Lea. Next month, 21GRAMS will move from its current Midtown South office at 437 Fifth Ave., between E. 38th and E. 39th streets. After the sublease expires in April 2020, 21GRAMS will continue with a one-year lease directly with ATCO.
In addition to signing on 21GRAMS, ATCO has completed a new, two-year deal with 368 Third Owners LLC. The production company will lease 2,954 square feet. Plus, the landlord agreed to a five-year lease with Forefront Communication Group for 1,842 square feet.
Leasing activity at 381 Park Ave. South has been strong. A couple of its high-profile tenants include the cloud-based communications company Fuze Inc. and Superfly Productions, a company that produces large-scale events such as the Bonnaroo Music & Arts Festival in Tennessee and the Outside Lands Festival in San Francisco.
"The swift lease-up of 381 Park Ave. South is a key indication of the strength of our location and the quality of our building," says Kate Hemmerdinger Goodman, co-president at ATCO, who notes that the building is now 95% occupied.
Other major tenants in the building include Stephen B. Jacobs Group; Goldstein, Rikon, Rikon & Houghton, P.C.; and Travel Planners. The building is also home to the well-known New York bakery and restaurant Sarabeth's Kitchen.
William Carr, Peter Goldich and John Cinosky of ATCO Brokerage Services represented the landlord in all three transactions. Michael Pinney of Signature Partners represented 21GRAMS. Harlan Cygielman of Manhattan Realty Advisors represented 368 Third Owners. Marc Mas of Legacy NY represented Forefront Communications Group.