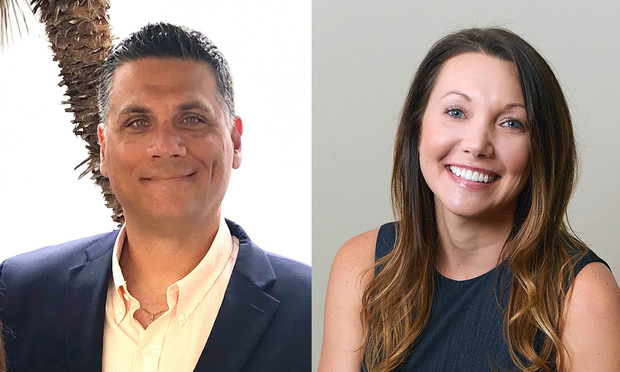 Florida's first Palisociety hotel, an operator of unique and boutique hotels usually in redeveloped historic buildings, will open in a renovated Art Deco building in Miami Beach.
The Palihouse Miami Beach is opening this summer at the former home of the Greenbrier Hotel at 3101 Indian Creek Drive with help from a $9.6 million Centennial Bank loan.
A partnership between developer Scott Robins, whose endeavors include the redevelopment of the Sunset Harbour neighborhood, and Rory Greenberg, founder and head of Miami Beach development and advisory company RB Green Cos., bought the property and embarked on its revival.
The Greenbrier opened as a 71-room hotel in 1940 and became part of the Collins Waterfront Historic District. In the 1990s, it was converted to a condominium building with 41 units ranging from studios to two bedrooms.
Greenbrier Partners LLC, the Robins-Greenberg partnership, bought 39 units for $14.5 million in November 2017 and acquired the remaining two units in 2018.
In between the two purchases, Greenbrier Partners secured the $9.6 million renovation and redevelopment loan.
Centennial Bank senior vice president Peyton LaCaria and Broward County market president Heather Zatik, both based in Fort Lauderdale, issued the loan.
The deal was slightly complicated for the lender because the borrower still hadn't acquired full ownership, LaCaria said.
"From a lender or banker's standpoint, that was kind of somewhat of a hurdle. It was the, 'What if they are unable to obtain these last two units?' " LaCaria said. " How do you renovate during that time frame? That was a very unique and different situation. It was something that I had not seen before but again got comfortable with it through a lot of discussion, a lot of reviews with attorneys."
The loan, which did not cover unit acquisitions, covered 40% of the project cost, acquisitions included, LaCaria said.
California-based Palisociety, which is accepting reservations starting Aug. 15, has a collection of hotels that tend to be in renovated buildings, revamped with an eye toward preserving the unique character and feel of the properties.
The former Greenbrier Hotel fit in perfectly with the rest of Palisociety's portfolio.
"In essence, they took it back to what it was originally with some modifications," said LaCaria, who made a recent visit. "It's a very different kind of cool, chic look that they have gone with."
The condo unit purchases weren't difficult because many were held by absentee owners as investments and vacation rentals, LaCaria said.
While this is the first Palisociety hotel locally, it won't be the last.
The hotel operator plans another opening at 35-83 NW 27th St. in Miami's Wynwood neighborhood with hotel rooms and furnished micro units, according to LaCaria.
This venture also would be in partnership with Robins as well as former Miami Beach Mayor Philip Levine.
Robins and Levine, who served two terms from 2013 to 2017, previously partnered in acquiring properties in the bayfront Sunset Harbour neighborhood. They started assembling their portfolio in 2007 when the area was rundown and and sold the seven renovated properties for $69 million last year.
Related stories:
Bilzin Sumberg's Martin Schwartz Details $69M Sunset Harbour Sale