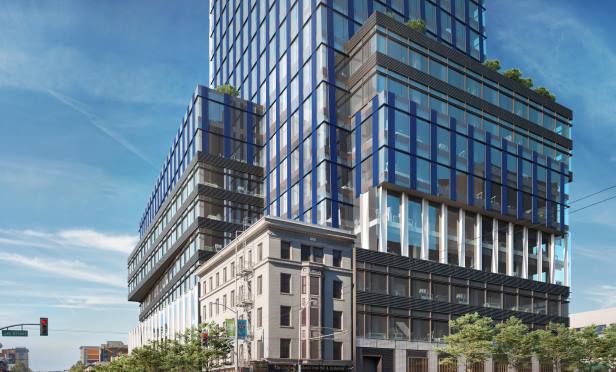 SAN FRANCISCO—Brookfield Properties will break ground this summer on 5M, a 4-acre mixed-use project in downtown. Overall, the development will provide $76 million in public benefits to the SOMA neighborhood and the city.
"5M and its substantial public benefits will have a positive impact on the immediate neighborhood, as well as the city, with new parks, jobs, housing and opportunities for local businesses," said Jason Bonnet, Brookfield Properties vice president.
Utilizing community feedback from hundreds of meetings, 5M incorporates new ways to redevelop large-scale urban sites by using diverse programming. In a partnership with the Hearst Corporation, Brookfield is transforming empty parking lots and underutilized warehouses into a pedestrian experience with public open spaces, housing, offices, retail and restored historic buildings. Bound by Mission, Fifth and Howard streets, the site is located adjacent to a public transit concentration.
"5M is a next generation mixed-use urban project reflective of the neighborhood's past, present and future. Its authentic combination of elements will transform the area into San Francisco's most unique setting to live, socialize and conduct business," Bonnet tells GlobeSt.com. "This project's open platform, both the physical buildout and digital amenities, will allow a diverse user set to interact serendipitously and to inspire creativity and innovation."
The 640,000-square-foot class-A office building, 415 Natoma St., is scheduled to break ground this summer. The building includes retail and ground floor uses, with an envisioned collection of retailers and restaurants. Construction also will start this summer on a 302-unit apartment building with 91 affordable units. The two buildings and ground-level open space will open in mid-2021.
Overall, 5M will create 702 residential units, including units designated for middle-income households, seniors and formerly homeless families. 5M is the city's first private project to localize affordable housing on-site, within the same block and in the immediate neighborhood. In addition to the 91 on-site affordable middle-income units, 83 units of senior housing are being built on the same block. Another 71 units of family housing, including 19 units for formerly homeless families, are being funded a few blocks from 5M at 168 Eddy St. as part of a project by the Tenderloin Neighborhood Development Corp.
More than 50,000 square feet of parks, rooftop gardens, play areas and open space programmed to include community arts and cultural events are part of the 5M plan. The historic Chronicle Building will be renovated, and the historic Camelline and Dempster buildings (a former printing house) will be repurposed as signature features on the site.
"The scale and hyperlocal focus of public benefits are unprecedented in its emphasis on arts, culture and youth programs," said Bonnet. "For the last decade, Brookfield Properties has worked with local small businesses and community organizations to identify and refine public benefits. 5M is rooted in long-term commitments to on-site programming and affordability."
5M will immediately provide $500,000 in public benefits to the community, including $150,000 to the San Francisco Arts Commission for improvements to the Dempster Building and $350,000 for improvements to the Old Mint Mall across Mission Street from the project. Moreover, 5M will fund the renovation of the historic Dempster Building, which will be dedicated to Community Arts Stabilization Trust for arts, cultural and educational uses.
Furthermore, 5M establishes an arts and nonprofit endowment fund, including $600,000 to an arts facilities fund. The development also provides a local capital fund for neighborhood youth organizations, programming for the Bessie Carmichael School and funding for nonprofit facilities, the Gene Friend Rec Center and the SOMA Pilipinas Filipino Cultural Heritage District.
"5M was created from collaboration with local arts and non-profit organizations to provide a thoughtful economic, social and cultural formula to support positive growth–local jobs across all industry sectors, a wide range of housing and social gathering places for everyone in the neighborhood," added Bonnet.
Laura Crescimano of SITELAB urban studio led the master plan and design of this project. Brookfield believes that this next generation of development practices and design benefits everyone, including class-A office tenants.
"By integrating technologically advanced construction and digital platforms for office tenants with adjacent investments in parks and community programming, we see 5M as a collaborative win for everyone," said Bonnet. "Office tenants understand that their employees and talent expect authentic urban amenities, which we will deliver by sustaining the robust community that already exists in SOMA."
Hearst is retaining full ownership of the existing Chronicle and Examiner buildings, which will continue to serve as the home of the San Francisco Chronicle newspaper operations. Hearst's retained ownership rights include a planned city-approved 400-unit condominium building on the Chronicle and Examiner property, as part of 5M.
The first mint in San Francisco opened its doors in 1854 but it quickly became overcome by demand during the Gold Rush and a second building was created in 1874. For the past three years, the Old Mint building has been used as a special event space which can be rented out for private parties.