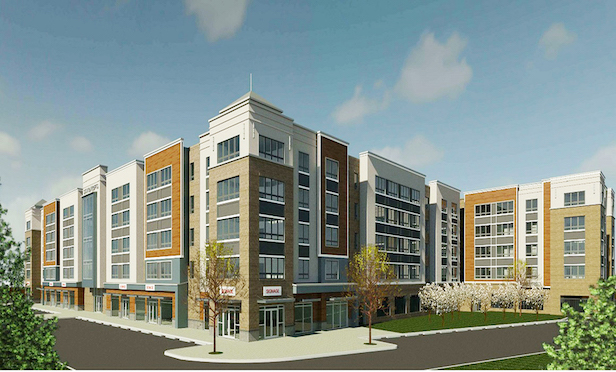 WOODBRIDGE, NJ—Prism Capital Partners of Bloomfield, NJ, in a joint venture with Northwestern Mutual Insurance Co. has acquired a development site with plans to develop a major mixed-use project here.
Prism, who will be operating partner, will redevelop the former car dealership site into a development that will feature 232 apartments and 12,000 square feet of retail space. All approvals to move forward with the project have been secured.
Cushman & Wakefield's New Jersey capital markets team orchestrated the joint venture purchase, in which Northwestern Mutual Insurance Company also is serving as construction lender. The commercial real estate services firm's Andrew Merin led the transaction with team members David Bernhaut, Gary Gabriel, Brian Whitmer, Kyle Schmidt and Ryan Dowd.
No financial terms of the land purchase or the development project were released.
Demolition work at the former Lucas Chevrolet dealership site will begin in July. The property is located Downtown Woodbridge, next to the Woodbridge Station.
"The demand for transit-oriented multifamily remains robust in New Jersey, and this property is ideally situated for luxury, fully amenitized apartment homes," says Prism Capital Partners' Eugene Diaz, principal partner. "We are pleased to start demolition work and anticipate construction of the building to begin this fall, following the completion of site work."
C&W's Merin says, "It is exciting to be part of arranging the partnership of one of the most creative, cutting-edge multifamily developers and a top-tier institutional investor. They both saw the opportunity to create a unique mixed-use project to be located in one of Northern New Jersey's more transformative towns."
Prism Capital Partners recently completed phase one construction at Edison Village, the mixed-use redevelopment of the historic Thomas Edison Invention Factory and Commerce Center in West Orange. In Hoboken, Prism's conversion of a former Wonder Bread factory into multifamily also is also underway.