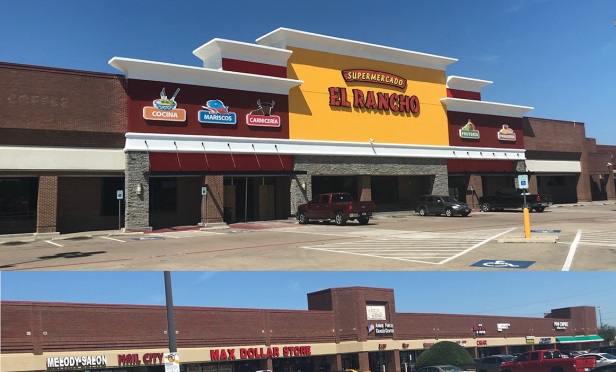 IRVING, TX—The DFW economy had another strong quarter, marked by more payroll expansion in both sides of the metro. Unemployment dropped to 3%, the lowest level recorded in DFW since 1999, according to a second quarter retail report by CBRE.
DFW gained approximately 132,000 new residents from 2017 to 2018, more than any other US metro area, according to new data from the US Census Bureau. A strong business environment along with affordable housing and good public schools has contributed to DFW's population boom, helping it become the fourth most populous US metro area and home to more than 7.5 million people.
With this increasing population explosion, investors continue to flock to the metro, with the Towne North shopping center in Irving being the latest example. The center recently sold for $17 million.
Towne North is 124,000 square feet and 84% leased. It is anchored by a 55,000-square-foot El Rancho Supermarket, which is opening next month after rebranding from Tom Thumb. Towne North is at the southwest corner of Beltline Road and Northgate Road, one mile north of Irving Mall.
Disney Investment Group's David Disney and Adam Crockett brokered the sale on behalf of an entity controlled by HSM Equities. Disney and Crockett also found the private buyer who purchased the site.
"Towne North was originally built in the mid-1980s to serve the southern Irving market, and Tom Thumb successfully anchored the center for more than 20 years," Disney tells GlobeSt.com. "The Hispanic population has grown significantly around Towne North and with Kroger located across the street, Tom Thumb finally decided to convert its store to El Rancho Supermarket which opens next month. With El Rancho, the new owner will have an opportunity to expand tenancy and lease the balance of the center to accommodate the needs of the growing Hispanic population."
Retail fundamentals remained strong in second quarter, with occupancy reaching a record high of 94.7%. Construction and absorption also saw slight increases this quarter, showing signs of strength mid-year, according to a retail report by CBRE.