NEW YORK CITY—One of the biggest challenges is the city's dependency on its $93 million budget, and "we're not putting aside adequate reserves," says Paul J. Massey, Jr. "So, when big things happen in the economy, another recession, I think the city is underprepared and we'll all suffer for that."
Massey co-founded the brokerage Massey Knakal, which Cushman & Wakefield bought for $100 million in 2015. Last year, he started the real estate advisory firm B6. But in 2017, he was one of the contenders challenging Mayor Bill de Blasio. He visited ALM Media's studio to discuss key issues of the city including its economy, housing, schools and public transportation—through a real estate lens.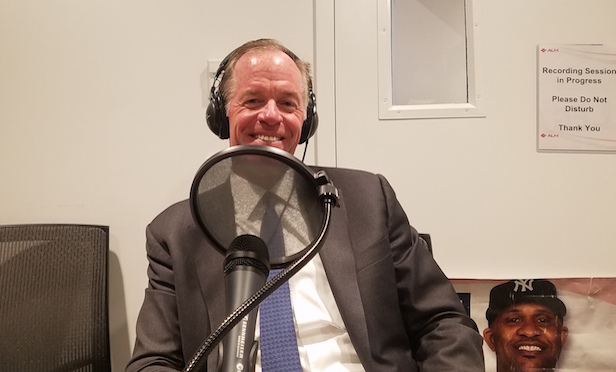 "I think we really need someone who is going to take ahold of that budget and be careful about the bumps in the road that might be ahead," he says. "If you're planning for the long term, you're constantly setting aside reserves."
He adds that 50% of the city's budget comes from real estate taxes. He underscores that the city as a whole and city government are immensely dependent on the health of real estate business in New York City.
As to whether the real estate industry gets a "bad rap" for being too profit-driven at the expense of communities, Massey says real estate companies play a critical role in actively building affordable and workforce housing. "We desperately need that work because we have a housing crisis in the city. We probably need 400,000 to 500,000 new units because we have an aging housing stock," he notes.
He points out current housing is about 80 years old. Plus, with the influx of people wanting to move to New York, private companies need to work with the city and state programs to make it reasonable to develop property, he says.
"The city is currently not doing enough," says Massey. "The role should be looking at development in areas where we want to develop. Not every neighborhood in New York City wants development but there are some who would welcome it and it would revitalize some of the markets." He states the city should look at those areas on a blanket basis.
Massey opines that the city should stop negotiating every project and every transaction. He advocates instead looking from 40,000 feet at the city at areas where they are encouraging development and to build the needed housing.
He agrees with a message of Jane Jacobs' book, "The Death and Life of Great American Cites," saying, "Let's not make every neighborhood Midtown." With 75 neighborhoods around the city, affordable housing should be created where people won't be pushed out, he states. When Massey was campaigning for mayor he heard from people all over the city who were feeling this pressure.
"We should really look at the zoning that we have and in a lot of cases stick to it," says Massey. "I'm not advocating for massive development of a whole bunch of neighborhoods that are currently low density. We can get our housing needs accomplished without that."
In the above GlobeSt.com podcast, Massey addresses more on the public responsibilities of the real estate industry. Mayor de Blasio's administration has noted a 75.9% graduation rate in New York City schools. Massey comments that there should be greater managerial discipline in the administration. His company is looking into forming a non-profit arm where they would get involved in adopting a school with mentoring and leadership programs.
"The mayor's job is more of a CEO job, less political, more managerial," says Massey. With a record number of city employees and over 50 departments, he characterizes the role as a logistical, heavy lift that requires a disciplined, strong manager. And he's one who believes in New York City as the capital of the world.