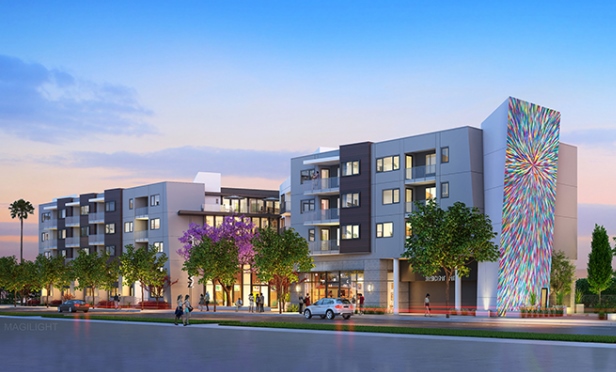 SAN JOSE—Construction on 7EMPIRE, a 97-unit class-A art-focused multifamily community, is underway at 525 North 7th St. on the only remaining infill site in Japantown. The Japantown location provides direct connections to VTA light rail, bus and bike-share transit modes linked to nearby Silicon Valley employment centers. The site also has access to Jackson Street shops, grocers and restaurants as well as local artists, vendors and design studios which comprise the Jtown Art Walk.
JLL arranged $34 million in debt financing for the combination wrap/podium project, working on behalf of the developer, TriForge Capital Partners, to secure the 13-year fixed-rate construction-to-permanent loan with Guardian Life Insurance Company of America. TriForge Capital Partners is led by development groups LandForge and developURBAN. The JLL capital markets team previously coordinated venture equity on behalf of the developer.
Due for completion in 2021, the USGBC LEED-designed property will encompass a mix of residential dwellings, a 5,000-square-foot publicly accessible sculpture and street art park, approximately 1,000 square feet of entry plaza retail and 131 parking spaces.
One of the unique features of the property will be the CityLift mechanical valet parking system, which doesn't require any cars to be moved in order to retrieve a car.
"We're seeing this type of valet system more and more in tighter core areas due to the cost of land. This allows us to use the land more efficiently," Derek Allen, president of LandForge Inc. and LandForge Capital Partners, tells GlobeSt.com. "Other features include security and the option of making each stall a charging station if we wanted."
Allen says the parking system is a fully contained parking site which is a plus, given the density of the urban setting.
In addition, 7EMPIRE's lobby areas will function as complementary co-working spaces and art galleries curated in part by local artists. An artist-in-residence program is currently planned, and the integral art park has been designed alongside the famed Empire Seven Studios to include community engagement activities.
7EMPIRE's comprehensive art focus is born organically from the site's prior use as a studio gallery and as a home base for Pow Wow San Jose since 2017. The 7EMPIRE development will build on the art culture that already thrives in Japantown and provide additional venue space for organized activities.
"The unique art is throughout the project and it is curated by the local arts community," Allen tells GlobeSt.com. "It allows our boutique property to provide authentic art experiences and speaks to an organic living space that doesn't get stale."
Residential floor plans will include a mix of junior suites, flexible flat-style residences and multi-story urban townhomes ranging from one to three bedrooms. Additional amenities include a rooftop lounge area, a functional movement gym, yoga and meditation studios, an outdoor community kitchen with multiple contemplation zones, and a smart home concierge app experience. As an homage to the site's diverse cultural heritage, historical markers and sculptures will also be present throughout the site to tell part of the backstory of one of San Jose's most unique neighborhoods.
"We set out to develop a community that fuses the way discerning residents want to live within spaces that world-class artists want to create," adds partner Collin Eckles, former president of Rose Rock Group, a Rockefeller company. "This effort will forge an inspiring exposé of youthful vigor and some of the best street art the world has ever seen, on par even with the Wynwood Walls murals of Miami, all within the aesthetic of Jtown."
LandForge partner JIG Holding acknowledges the transaction was a good cultural fit for it as well, noting that, "along with strong submarket fundamentals and a competent development team, it was the right time to enter the US market after being active on multiple continents for the past 70 years."
The JLL debt placement team representing the developer was led by senior director Chris Gandy.
"The TriForge team has the local depth and market perspective lending partners like Guardian are seeking," Gandy said. "With its forward-thinking design and authentic art component, we are confident the 7EMPIRE development will be well received."
Allen sums it up by saying 7EMPIRE is a "meaningful and sustainable development, which integrates local community spirit into a boutique-sized design-forward offering."
The Bay Area as the labor market remains tight and the cost of living has risen to unprecedented levels, according to reports by Axiometrics and the Bureau of Labor Statistics.
Moreover, the average effective rent for the San Jose metropolitan area increased by 4.5% to nearly $2,800 per unit, according to JLL research. There are approximately 6,400 units in the pipeline that should reach completion by year-end 2020.
However, the addition of these new units may not offer much relief for renters as new supply consistently has failed to keep pace with demand. To illustrate this, an average of approximately 29,000 jobs were created each year from 2014 to 2018 compared to annual average of 3,500 multifamily units constructed in the same period.
Although a high cost of living is of concern to the future sustainability of the area, ample job opportunities and high paying jobs should keep a large concentration of highly skilled talent in the area that can afford to stretch incomes enough to pay high rents. In fact, even as rents continued to climb, the overall market vacancy rate remained tight at 4.2% in 2018, just 30 basis points more than a year ago, says JLL.
---
➤➤ Join the GlobeSt.APARTMENTS (formerly RealShare) conference October 29-30 in Los Angeles. The event will analyze the opportunity in the emerging trends and conditions of the multifamily market. Don't miss out on joining the 1,000+ of the industry's top owners, investors, developers, brokers and financiers as they gather for THE MULTIFAMILY EVENT OF THE YEAR! Click here to register and view the agenda.
---