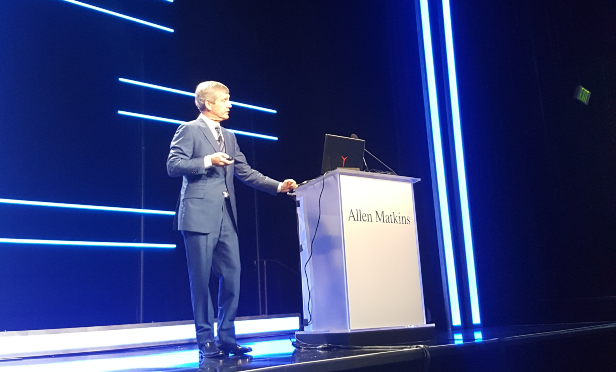 How much will there be to gain in the next recession? Investors are predicting a recession in the next one to two years, and some are waiting on the sidelines to take advantage of opportunities. However, at the Allen Matkins' View From the Top conference at the Beverly Hilton this week, Michael Van Konynenburg, president of Eastdil Secured, gave an economic update and posed the question. He pointed out that with little over-leverage in the market, there will be few forced sellers in the next recession, unlike last in the last recession. As a result, waiting for a recession may not be advantageous.
Now, the market is in an equilibrium for investment sales volume. Volumes peaked in 2015, and since have remained steady. This year, overall sales volumes are trending down. Additionally, volumes are trending down in every asset class with the exception of multifamily, which has trended up, according to Van Konynenburg. Still, industrial is the most sought after asset class for investment and manufactured housing has had the most growth. Value-add and opportunistic opportunities are also among the most popular investments. Long-term leased office assets and well-located, irreplaceable retail is also popular for investment.
Despite the drop in investment volumes, the market is flooded with capital. There is two-times the capital available in today than there was in 2007. In general, this capital likes value-add and opportunistic deals. The core market, on the other hand, is much thinner, according to Van Konynenburg. In terms of foreign capital, Canada is leading activity, while China has had the biggest drop in activity.
Van Konynenburg also reviewed asset pricing in his speech. Overall pricing is trending above peak pricing, up 134%. Multifamily is leading the bump. Apartment pricing is 60% up, while strip malls are only up 10% over the peak pricing. "That is significant of where we have been chasing assets," added Van Konynenburg.
Low interest rates, however, was at the top of Van Konynenburg's mind. Today, rates are 150 basis points lower than they were this time last year. He predicts one or two more cuts before the end of the year, but the rates are not yet priced into the market. The low rates have also driven REIT activity this year. REITs fell last year as interest rates increased. This year, activity is up 83%.