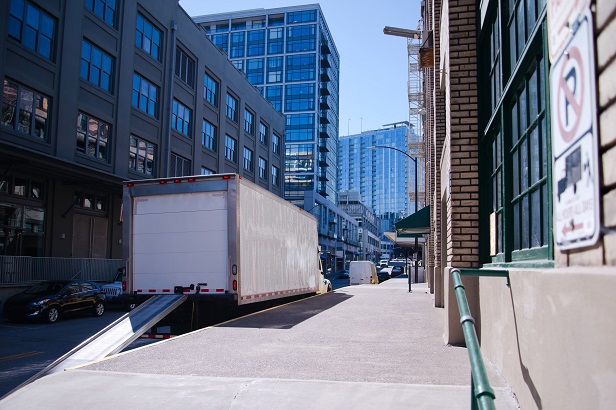 SAN FRANCISCO—Not all logistics real estate is created equal. Thus begins a white paper by Prologis on the need to redefine logistics real estate. "With a range of features and locations," it writes, "properties can have widely different purposes, yet current industry definitions seldom go farther than 'warehouse/distribution' and 'flex'."
The report defines five property types: last touch, city distribution, multi-market and gateway.
Briefly, these are defined as:
Last Touch. Properties that can reach large dense, affluent populations within hours. These buildings typically are the oldest and smallest, because they are in very infill locations.
City Distribution. Properties that are well-positioned to provide 1-2 day shipping to an entire large market. These buildings tend to be small to mid-sized and located in urban areas.
Multi-Market. Distribution facilities must have the right balance between location and functionality. These buildings tend to be newer and larger and located at key transportation hubs at the periphery of major urban areas.
Gateway. Multi-market buildings that incorporate access to major sea and intermodal ports.
The categories are differentiated primarily by the amount of time goods spend traveling between a facility and their next or final destination, the paper notes. It is the newest of these categories, Last Touch, which is also the most interesting given the increasing demand for same-day delivery.
Macy's, to name just one example, is currently testing free same-day delivery—an innovative and unusual step for a department store.
Site Selection for Last Touch
Selecting the right location for Last Touch facilities is, to state the obvious, key to their success. Delivery times from Last Touch facilities can be measured in hours, Prologis said. As a result, location characteristics for this segment are the most similar to retail. Building-level characteristics are often secondary to location considerations. "Furthermore, the largest, densest markets often have the greatest challenges to on-time delivery (such as high congestion), which increases the importance of well-located facilities," according to the paper.
Not all markets warrant a Last Touch location however. Prologis determined that the top 25 US markets, with aggregate income of more than $100 billion, qualify for at least a City presence and the top eight markets, with aggregate income of more than $250 billion, are likely targets for a Last Touch operation. "Around the world, major 24-hour cities generate the need for Last Touch operations; those cities include Tokyo, London, Shanghai, Paris and Mexico City," it said.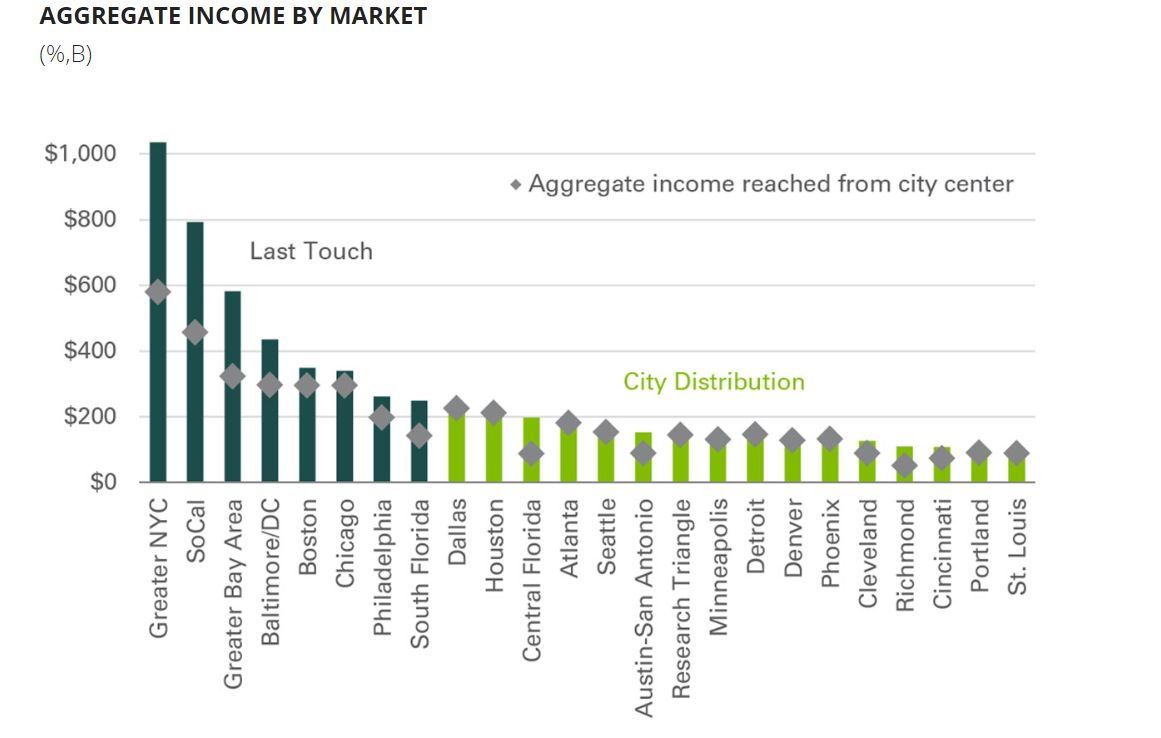 Income as a Factor
A relative ranking based on income reach within a drivetime radius reveals the best and worst locations for Last Touch and City distribution within a market, Prologis said.
"While a logistics real estate user may seek to offer a similar level of service across cities of a certain size, the nature of cities yields several differences crucial to site selection," the industrial REIT wrote. For example, it wrote, some $600 billion can be reached within one hour of the center of Manhattan while $180 billion can be reached from Atlanta's city center.
Also, the market penetration of any one facility will likewise vary, it noted. Given the vastness and scale of New York City, for example this $600 billion translates to about 56% of total market income; in Atlanta, that figure is 94%.
Lastly, Prologis said, the range of market penetration—the proportion of the total market income reached from a particular site—between building locations is more pronounced the larger and denser the market "Therefore, it is important to construct an index that reveals relative positioning within a market, and adjusts for the differences between markets," it said.
Calculating Income Reach
To calculate the "Income Reach," Prologis divided aggregate income within a one-hour drivetime radius (during peak traffic) from that property by aggregate income for the same radius from the city center.
"Last Touch locations have an Income Reach of 95% or higher; while City locations are 85% or higher," according to the paper. "The shorter the promised delivery timeframe, the more important it is to maximize aggregation potential, thus the higher cut-off for Last Touch."