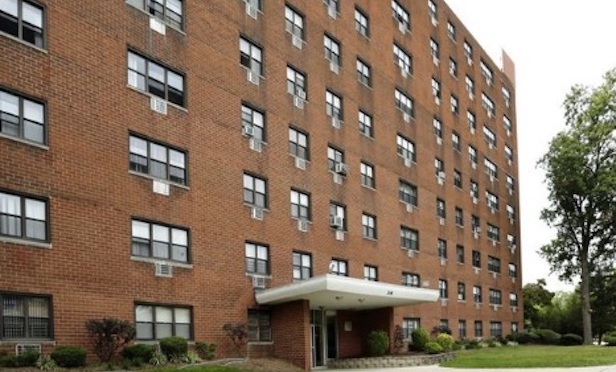 ORANGE, NJ—The nine-story Reynolds Terrace Apartments here has changed hands in a $16.65-million transaction, according to brokerage firm Gebroe-Hammer Associates.
The Livingston, NJ-based firm notes that sales activity in Essex County has been brisk of late. Gebroe-Hammer states that in the past eight weeks, it has brokered deals involving more than 1,300 units in the Eastern section of Essex County.
Gebroe-Hammer's EVP Stephen Tragash and executive managing director David Oropeza exclusively represented the seller, 248 Reynolds Terrace, LLC, and procured the buyer, a private investor, in the Reynolds Terrace Apartments transaction.
"Featuring a mix of studio and one- and two-bedroom layouts within a tree-lined residential neighborhood, Reynolds Terrace Apartments is a prime example of what today's investors are seeking throughout the East Essex Region—a quick walk to mass transit, proximity to blue-chip employers and accessible neighborhood conveniences," says Tragash. "Properties of this size and caliber will benefit from long-term value appreciation associated with favorable demographic patterns forecasted for the next five to 10 years."
In addition to the sale of Reynolds Terrace Apartments, Gebroe-Hammer's market specialists recently closed three additional multi-family property sales in nearby East Orange and Newark. In total, the Livingston, N.J.-based firm arranged seven transactions involving more than 1,300 units in eight weeks throughout the East Essex submarket, which includes The Oranges and Newark as well as Irvington, Bloomfield, Nutley and Belleville.
Recent sales highlights include 35 units at 130 Chancellor Ave. ($3.15 million) and 23 units ($2.675 million) in the North Broadway section of Newark, as well as a two-property package at 38 S. Walnut St. ($2.6 million) and 12 units at 66 Lenox Ave. ($1.7 million) in East Orange. Oropeza, Tragash and SVP David Jarvis represented the seller and procured the buyer of the Chancellor Avenue property while Jarvis orchestrated the North Broadway transaction and Oropeza arranged the East Orange trades.
"In just the past decade, East Essex has evolved from its urban industrial roots to become a popular residential, business and tourist destination favored by millennial and executive-level professionals working locally or out-commuting to New York City," Oropeza notes. "The region has led—and continues to lead—the state in the rebuilding and rehabilitation of its existing housing stock. Demand is at all-time high levels for repositioning opportunities involving well-established, pre-1960s-era multi-family buildings within 'urbanesque' submarkets undergoing an architectural and population transformation."