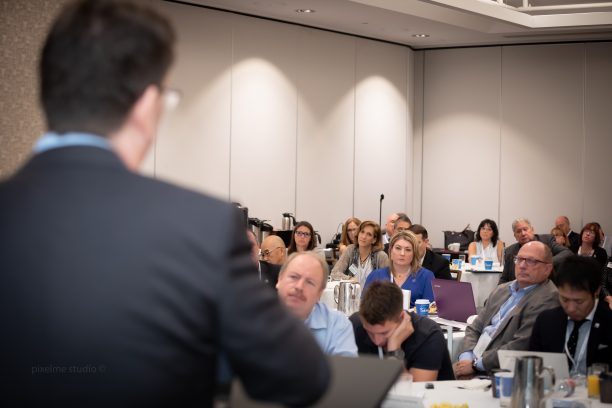 SAN FRANCISCO – James Scott minced no words when describing the landscape facing today's property management firms as they seek the right technologies to address challenges.
"What you're trying to deal with at the moment is a complete minefield," the IREM Technology Innovator-in-Residence and Lead Researcher for the MIT Real Estate Innovation Lab said during the AMO Education and Breakfast panel at the 2019 IREM Global Summit. "We at MIT have created our own database of real-estate tech companies; there are over 3,000 of them. A huge amount."
Scott, along with Sunrise Management president Jesse Holland and Yardi director of sales Michael Remorenko, joined moderator John Salustri of Salustri Content Solutions in exploring the ways property managers can narrow the field while addressing major professional pain points.
Remorenko counseled the audience to first define the specific problem or problems that they need to solve before settling on the type of technology needed. Once those specific efficiencies are named, he said, it's easier to figure out what to deploy to achieve them.
Holland recalled his own process dating back two decades when his company had to put in a new server. "I'm enough of a techie to be dangerous," he said. "I got three different quotes and we had three different ways of doing it …. I had to learn the technology and how it worked to choose what was best for us."
In his capacity at MIT, Scott evaluates approximately 10 real estate tech startups weekly. Part of judging these companies, he said, is asking the simple question of whether the company can solve the problem they're trying to fix.
"You want to look at the management – are they capable? Do they have experience? Do they have the software and capabilities behind it?" he said. "You want to look at the funding, who's behind it. Is there a bigger venture team behind that?"
Moreover, he said, it's crucial to evaluate a firm's future trajectory and what they plan to provide along the way – in addition, of course, to cost versus return on investment.
The trio also counseled against getting distracted by ever-newer – but not necessarily more effective – technology.
"I see a lot of times when people get caught looking at shiny toys," Remorenko said. "It may fit into a small piece of what you're doing, but what is the long-term strategy of that product? Is that product continuing to be updated, moving forward, advanced? You want to look at someone who is definitely a long-term player and understands what it takes to move forward. ROI is not just dollars any more. There are other factors."
Since there is not currently an all-in-one solution, Scott noted, property managers must be discriminating in choosing their paramount needs and the technology needed to best address them.
"It's about 1997 in the prop-tech world," he said. "We will get there. It's just going to take a little bit of time."