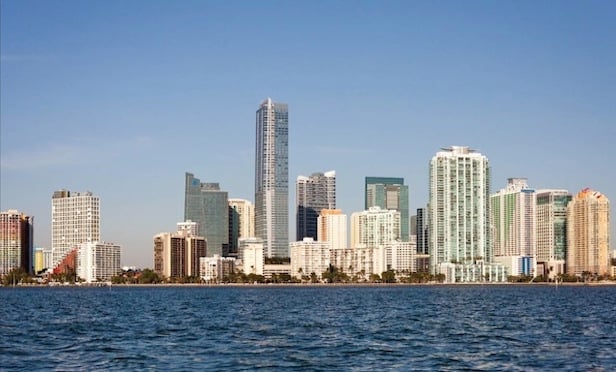 MIAMI—By nearly every metric, the Miami residential sales market is very strong, fueled at least in part by residents of tax-burdened states fleeing to Greater Miami and other locations throughout the Sunshine State.
Miami single-family home and condo sales both jumped by double digits in September as compared to a year earlier. Single-family home sales increased 10.4% year-over-year, from 978 to 1,080. Condo sales increased 11.4% year-over-year, from 1,041 to 1,160.
"New tax laws and low mortgage rates continue fueling Miami real estate," MIAMI Association of Realtors chairman of the board José María Serrano says. "High earners from tax-burdened states are relocating to Miami, but not just because of monetary savings. Miami is home to one of the nation's fastest-growing downtowns, the world-renowned Art Basel Miami, a global reputation for fine art and design and the most cultural institutions in the Southeast."
Total Miami-Dade County home sales increased 10.9% year-over-year, from 2,019 to 2,240. With consumer confidence rising, unemployment low, job creation high and increased migration to Florida, Miami real estate should enjoy steady growth, the Miami Association states in its September housing report.
Year to date, Miami single-family home sales are up 1.8% compared to the first nine months of 2018. Condo transactions are up 0.6% year to date.
Luxury ($1-million-and-up) home sales increased for single-family homes and condos in September 2019. Single-family home luxury sales increased 23.3% to 90 transactions last month. Condo luxury sales increased 16.7% to 63 transactions.
Single-family home dollar volume rose 19.8%, from $525.7 million in September 2018 to $629.5 million in September 2019. Condo dollar volume in the Miami area jumped 14.5%, from $374.3 million to $428.6 million during that same period.
According to Freddie Mac, the average commitment rate for a 30-year, conventional, fixed-rate mortgage decreased to 3.61% in September, down from 3.62% in August. The average commitment rate across all of 2018 was 4.54%.
Lack of access to mortgage loans continues to inhibit further growth of the existing condominium market. Of the 9,307 condominium buildings in Miami-Dade and Broward counties, only 12 are approved for Federal Housing Administration loans, down from 29 last year, according to Florida Department of Business and Professional Regulation and FHA.
A new condo approval process could increase sales in the future. The new guidance, which went into effect in mid-October, extends certifications from two years to three, allows for single-unit mortgage approvals, provides more flexibility with owner/occupancy ratios, and increases the allowable number of FHA loans in a single project. The changes, many of which MIAMI and NAR has championed, should yield thousands of new homeownership opportunities.
Miami-Dade County single-family home prices increased 4.9% in September 2018, from $360,000 in September 2018 to $377,750 last month. Miami single-family home prices have risen for 94 consecutive months, a streak of 7.83 years. Existing condo prices increased 3.2%, from $237,500 to $245,000. Condo prices have increased or stayed even in 96 of the last 100 months.
Statewide closed sales of existing single-family homes totaled 23,510 last month, an increase of 11.5% from September 2018, according to Florida Realtors. Florida's condo-townhouse market totaled 9,007, up 6.1% compared to a year ago.
"With inventory levels continuing to dwindle, low mortgage interest rates remain the major reason we are continuing to see strong sales and price growth throughout much of the state," says Florida Realtors chief economist Dr. Brad O'Connor. "And with both sales and prices continuing to rise, it should come as no surprise that the dollar volume of sales throughout the state also increased significantly this September compared to September of last year.
O'Connor notes that statewide, closed sales of single-family homes totaled to about $8 billion, a year-over-year increase of 17%. Dollar volume for sales of townhouses and condos, meanwhile, rose by 7.5% to about $2.4 billion.
Statewide median sales prices for both single-family homes and condo-townhouse properties in September rose year-over-year for 93 consecutive months. The statewide median sales price for single-family existing homes in September was $265,000, up 5.3% from the previous year, according to data from Florida Realtors Research Department in partnership with local Realtor boards/associations. Last month's statewide median price for condo-townhouse units was $193,000, up 5.8% over the year-ago figure.