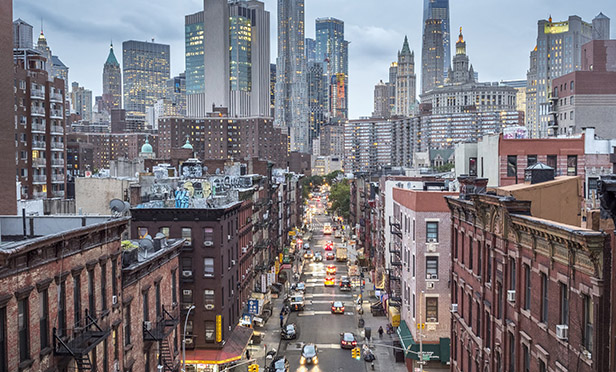 BOSTON–Finding favor in the loan department is subject to shifting priorities. Earlier this quarter, the Federal Housing Finance Agency doled out its annual allocation to the GSEs, these capped at $100 billion each to spread over the next five quarters.
As Dirk Falardeau, KeyBank's Boston-based SVP and regional manager, explains, the application of those funds come with parameters based on the type of product, the quality of location and sponsorship and what the GSEs define as "mission."
"Some 37.5 percent of that FHFA $100B allocation has to go toward mission," says the SVP. "Once the new allocation was in the marketplace, the agencies' pricing came back in line with historically seen levels, but they are also refocusing on fundamentals in all products."
Both GSEs embrace that 37.5 percent requirement, Falardeau continues. "A transaction that's encumbered by a regulatory agreement or recorded use restriction that restricts at least 50% of the rents, typically to less than 80 percent of area median income (AMI), is considered 100 percent mission. If less than 50% of the units, even just one unit (if it such a restriction exists) are encumbered by a recorded restriction then the project qualifies as 50% mission business and will enjoy a pricing benefit."
Even without a restriction mission can be applied to the asset depending on the market you're in, from cost-burdened to extremely high-cost markets. "Depending on what market you're in, the threshold for what percentage of AMI the units need to be in order to count toward mission varies and the percent attributed to mission is calculated on a pro-rata basis resulting in favorable pricing adjustments for the borrower."
Given that, what's hot and what's, well, not so much? Manufactured home communities, FHFA defined rural properties, small properties and of course rent-restricted properties, within guideline, all amount to what is "hot" in the GSE world. Of course, assets and borrowers with strong fundamentals will always be in favor regardless of mission.
Projects focused on green on the other hand, "would seem rather lukewarm today, where they were a very hot product last year, when it counted toward mission. Without those rate discounts, borrowers aren't as incentivized to make expensive renovations to accommodate the 30-percent energy reduction." Moderate-income properties, while not as hot as mission driven assets, still provide a housing goal value for the GSEs.
The GSEs are particularly selective these days when it comes to "the specialty products such as value-add, moderate rehabs, and lease-up transactions," he says. In addition, properties relying on one tenant type–such as student or military housing, will have a tougher lending row to hoe.
All of which begs the question: How are the folks of KeyBank advising their clients? "We're telling clients that with rates across the product types being at historical lows now is an exceptional time to pursue financing through the agencies. There's more selectivity right now in some regards, but that the agency platform remains one of the most viable finance options in the multifamily marketplace" he says. "Depending on a particular loan request's fundamentals, it may become a leverage or structure discussion, and, as always, lenders want to see real skin in the game in order to provide a high leverage non-recourse loan." The borrower's experience and ownership history continues to play a large role as lenders and their agency partners work to meet the new volume caps.
Falardeau expects a reset on cap volume sometime in the third quarter of 2020, although he doesn't expect the above parameters to shift much. "I don't see any relaxing of the existing loan parameters at the GSEs in the coming months. I expect they will be judicious in their quoting of the higher risk products and not look to introduce many new products to the market. The GSEs are very cognizant of the role the FHFA wants them to play now and going forward. This is the new normal."