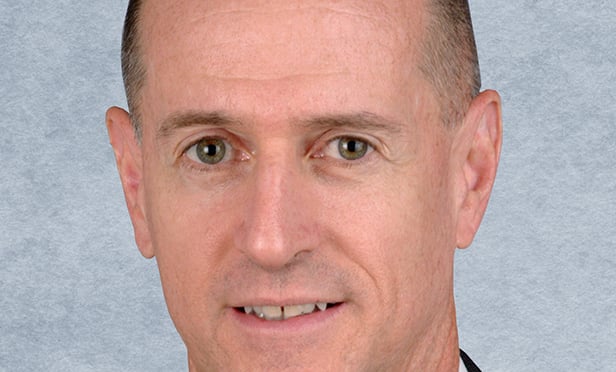 SAN FRANCISCO–As we prepare to swing into the new year, the outlook for the medical office sector is good…largely. Underpinning the market, as it always has, is the continual aging of the population and the increased medical services that come along with it.
But, despite this sure-bet demand, the sector is not without its challenges, as Al Pontius, SVP and national director of Marcus & Millichap's Office and Industrial divisions, makes clear. Those concerns arise as a result of the massive industry trend toward consolidation and the move on the part of many formerly independent care providers to saddle up with national care brands.
The firm's second-half Medical Office Buildings Report defines the growth of the merger movement: "Hospital and health-system merger activity continues to transform the medical office sector, driving a reduction in physician-owned practices in recent years. In 2012, nearly half of locations were physician-owned practices, but in 2018, just 31 percent were owned by doctors."
And therein lie the concerns for the existing stock of medical office buildings (MOB). "There's a lot of older-vintage product that's not located where the health systems want to be," says Pontius. "Some assets may not accommodate the desired configuration of services that the major health systems see as appropriate, modern enough or technologically supportive enough. Consequently, there are a number of buildings that will under-perform relative to newer properties in the sector as well as other asset classes."
But while there might be assets that sit on the sidelines as healthcare needs grow, few investors, be they institutional or private, are doing the same. "The consolidation has supported investor sentiment as major providers create efficiencies and broaden service coverage," says the report. "A sizable pipeline of new space and major expansions by high-credit tenants will sustain elevated investment activity through the end of this year."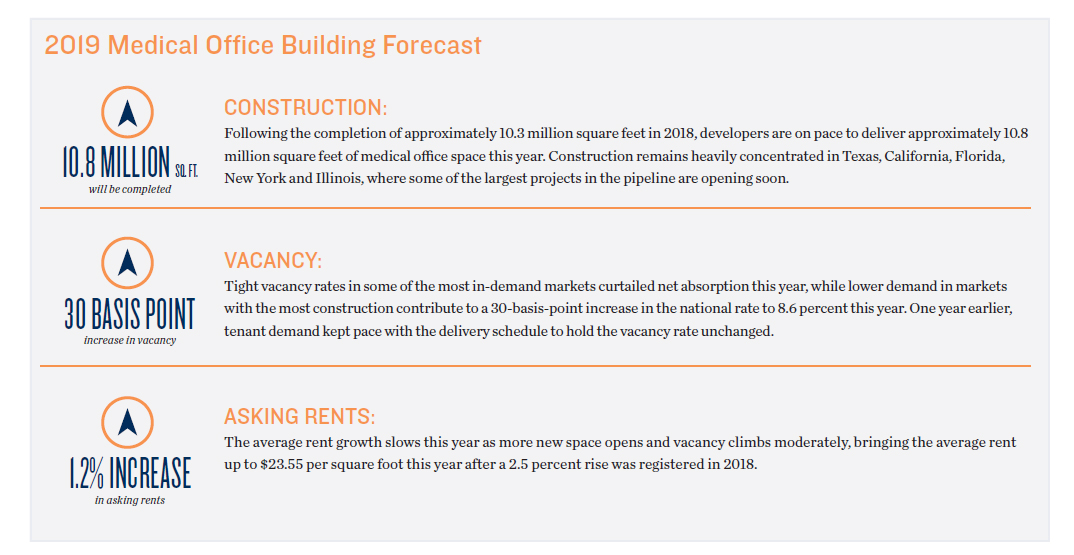 Pontius not only agrees but says we'll see that healthy appetite well into the new year. Despite the caveats, "we'll still be generally under-supplied in opportunities compared to equity demand," he tells Globest.com. "So it'll be a healthy year of liquidity, and you'll see a broad base of investors attracted to the sector. At the high end of the scale, institutional investors already deeply committed to the space will dominate transactional activity."
He also expects a fair share of new entrants, first-timers from private funds and those looking for diversification opportunities. "Assets under a healthcare network and outpatient buildings are major targets of midsize funds and private buyers," the report affirms, "recording cap rates in the mid-five-to-seven-percent territory."
The report even holds out some hope for older vintage properties: "Value-add opportunities can be found nationally in these medical office clusters and generally price at a moderate discount to the sector average."
But, as Pontius indicated, location is a key factor for major healthcare systems focused on bringing services to the local community, and to do so, they often opt for development. "Location is a big consideration for physicians and the larger practice groups because the model now is consumer-based," he says.
In fact, as the report bears out, "Bullish perception of future medical office demand will push up deliveries approximately half a million square feet over last year's 10.3 million square feet. Deliveries remained dominated by smaller facilities best suited for private practices and outpatient care, with a strong focus on medical groups and major health networks."
In terms of rent and vacancies on a national basis, the report puts the former on a gradual upswing: "Following a 2.9-percent increase to the average rent one year ago, a 1.6-percent year-over-year increase was registered in the third quarter, climbing to $23.41 per square foot."
If there's anything that might put a bit of a damper on that, it could be the eventual move of some clinics into chain-pharmacy space as CVS and Walgreens look to expand their healthcare offerings. When those deals come to fruition, "It can constrain rental growth rates," says Pontius. "It would offset what would otherwise be space demand elsewhere."
In terms of vacancies, the push for new, well-located assets is taking its toll, though they remain in the single digits. "Elevated construction lifted the national vacancy rate 20 basis points in the third quarter from a year ago to 8.6 percent," says the report.
Despite recent reports of a coming, possible downturn, Marcus & Millichap remains cautiously bullish on the prospects for 2020. That outlook includes medical office buildings, despite any minor notes of caution.
"The recession outlook is highly speculative," says Pontius. "Medical office buildings remain an attractive space for the investor population, across the board."