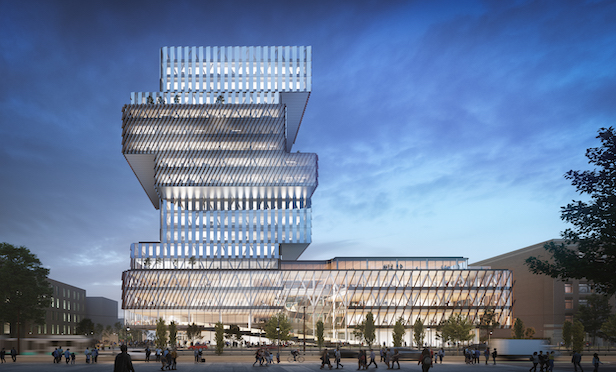 BOSTON—Boston University began construction late last week on its unique and somewhat controversial Center for Computing & Data Sciences building designed as a stack of books at 665 Commonwealth Ave. here.
A groundbreaking event was staged last Thursday, which was attended by Boston University President Robert A. Brown and Boston Mayor Martin J. Walsh. The 19-story nearly 350,000-square-foot tower designed by KPMB Architects will be the university's and Boston's largest and most sustainable, energy-efficient building when it opens in 2022.
The development cost for the project has been pegged at $290 million. The project site is currently used as a surface parking lot.
The new Computing & Data Sciences Building will house computer science and mathematics computing laboratory and workspaces and classrooms, allowing for the consolidation of the Departments of Computer Science and Mathematics and Statistics and the Rafik B. Hariri Institute for Computing and Computational Science and Engineering in one building.
Located in the heart of the university's Charles River campus, the center will be BU's first major teaching center built in half a century.
The Boston Planning & Development Agency approved the project in July and Boston University's Board of Trustees voted in September to begin construction on the project.
According to the BPDA, the project will create 1,040 construction jobs and 414 new permanent jobs. A total of $3.3 million in linkage funds to support affordable housing and workforce development will be made to the city, according to the BPDA.
The new building will be built five feet above Boston's suggested level for sea level rise and will feature geothermal wells, state-of-the-art shading systems to reduce computer screen glare and solar heat gain, triple glazed windows to manage interior temperature, structural sealants and finishes that reduce environmentally harmful chemicals and will be 100% free from fossil fuels.