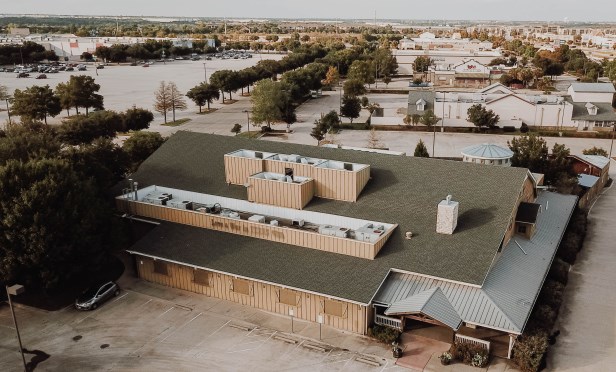 GRAPEVINE, TX—The original operator of the building at 2505 E. Grapevine Mills Circle was the Trail Dust followed by Love & War in Texas of Grapevine. The space sits on more than 2 acres on the ring road of Grapevine Mills Mall that attracts more than 10 million visitors a year.
Daylight Golf recently inked a 14,713-square-foot lease in the space. The new tenant will have a unique entertainment offering of virtual golf simulators in a high-end sports bar setting with a full restaurant menu. The venue will cater to golfers, sports fans and families, and attract corporate events and private parties.
"Daylight Golf has been searching for the right location to launch this new concept for over a year and we feel this is the ideal property in a great location for our premiere," says Jeff Dill, owner of Daylight Golf.
Daylight Golf plans to open in mid-2020. Along with the virtual golf simulators, there will be more than 40 video displays for sports viewing and a large patio for outside dining.
"It's a perfect fit that is unique, but broad enough for mass appeal," says landlord Cary Kopczynski.
The lease agreement is between CJK Grapevine Properties and Daylight Golf LLC. Derek Anthony, the transaction's lead broker with The Woodmont Company, along with Woodmont brokers Grant Gary and David Adams represented the landlord, and Andy Anderson with Restaurant Property Group at Henry S. Miller represented Daylight Golf LLC.
"The city of Grapevine has been very supportive of this new concept along with Simon, the owner of Grapevine Mills Mall," said Anthony. "Given the newfound energy in one of the most successful Mills properties, we feel this usage and concept will do well with traffic counts, new multifamily moving in, and a unique experience for mall shoppers and surrounding communities to enjoy. With PayCom, Kubota, Great Wolf Lodge, Gaylord by Marriott and many other companies based in Grapevine, the private party and corporate bookings will be a targeted client base as well."
The spread of small-format "eatertainment" concepts were recently featured in CBRE's report highlighting eight retail trends. Restaurants now account for 17% of US retail sales, more than any other retail sector, and restaurant sales growth has outpaced overall US retail sales gains in recent years, says the report. Anthony points to that eatertainment component as a significant factor in the Daylight Golf concept.
"Entertainment eateries are the newest craze in big-box operators. What better place than outside the most successful Mills product in the country than Grapevine?" Anthony tells GlobeSt.com. "With over 10 million visitors at Grapevine Mills Mall, we feel this usage and concept will be very strong for years to come. In addition to the local community and residents, this area bodes well for out of town guests, corporate travelers and private events. With over 5,000 hotel rooms within 5 square miles, there are plenty of cross-marketing opportunities throughout the area."