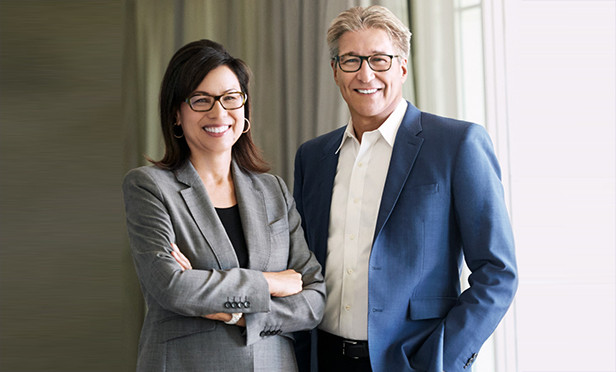 NEW YORK CITY — Mass urbanization and commercial real estate's climate impact demand strong action by designers, urban planners and architects, developers and legislators around the world. It's also a subject that Gensler has taken very seriously: the Gensler Cities Climate Challenge (GC3) outlines the firm's commitment to design all their projects to net-zero standards by 2030; and addressed it in their recently released Design Forecast "Shaping the Future of Cities." Diane Hoskins and Andy Cohen, Co-CEOs at the leading global design firm, spoke to GlobeSt.com about the real estate industry's most urgent climatic challenges and how CRE stakeholders are responding.
GlobeSt.com: How has CRE's climate impact changed and how much will that burden expand in the future?
Diane Hoskins: The growth of cities creates so much more of a need to focus on buildings, which account for 40 percent of CO2 emissions in cities. Cities overall create 70 percent of CO2 emissions even though they're only 2 percent of the world's land mass. Since 1990, we've seen a 70 percent increase in the number of people living in cities (to 3.8 billion). That obviously means more CRE in our cities and thus more CO2 emissions.
Andy Cohen: We are adding about 1.5 million people to cities every week for the foreseeable future, and 80% of the world's GDP is in cities. More than half of the global population is now concentrated in urban areas, and by 2060 two thirds of the expected population of 10 billion will live in cities. The way we design, build and operate new buildings, and how we reposition existing buildings to be more efficient are critical factors in our global efforts to address climate change and the effects of climate change.
GlobeSt.com: What are the biggest climate concerns and how can cities be more resilient in response?
Cohen: Cities are at the forefront of these issues, dealing with the real-time impacts of weather events, rising sea levels, migration, and resource scarcity. Ninety percent of the world's urban areas are on coastlines, so they are increasingly at risk. Working together, governments, institutions, and investors can anchor city planning in resilience to produce tangible, positive impacts on people's lives, jobs, health and well-being.
Hoskins: A multi-pronged effort regarding material choices, building retrofits and new construction standards is required. For existing buildings, how we upgrade systems and the building envelope from both a thermal and energy-generation standpoint is critical, using new types of glass and even brick and other types of veneers that sequester carbon.
GlobeSt.com: What impact is climate change having on the real estate investment sector?
Hoskins: At the 2019 ULI Fall Conference, one of the panelists talked about increasing coastal risk from rising seas. The investment sector in coastal US markets is really beginning to sound the alarm and take a harder look at the 10-, 20- and 30-year time horizon with regard to the risk and resilience of locations. We're in the mode now of resilience thinking versus prevention. For example, in Miami it's not about trying to stop sea level rise, but rather adapting to changing conditions. This includes having walkways at the second level and having entries that may be on the ground level but that are built with materials that can withstand the water. And in order to ensure that there isn't a cataclysmic level of warming and flooding, it's critical to address greenhouse gas emissions through building sector choices. Going to net zero can help keep warming below 2 degrees Celsius from now until 2050.
GlobeSt.com: What are the biggest CRE challenges to meeting and exceeding net zero carbon standards?
Cohen: We need to address everything from operational energy and the materials we choose, to how people travel and where we decide to build. We need our cities and governments to set goals in their cities and then take concrete steps to achieve them. We need investment from the private sector to assist with the gap in resilient design and high-performance measures, because the returns on these investments take time. And we need our cities to create densified zoning to encourage green development. We need all parties involved in development to design for zero carbon starting now and as designers we need to be advocates of a circular economy, asking the tough questions about whether a new building needs to be built or whether one can be renovated.
GlobeSt.com: Where are you seeing the biggest advances in new building design? What about existing buildings?
Hoskins: Whenever possible, we try to find an appropriate existing building to adapt, so we can avoid additional embodied carbon. Sustainable strategies include achieving significant energy use reductions through lighting and mechanical retrofits, IoT (Internet of Things) enabled building operations and management systems, and re-use of over 50 percent of the original building materials. The scale of impact we can have by improving the performance of our existing buildings is immense—much greater than if we only focus on new buildings. For new buildings, we've found that the most-effective strategies relate to basic design—size, shape, etc.
But it's true that we increasingly will need new techniques to accelerate performance. For example, we've already seen the development of glass that generates energy. There are multiple types of energy-efficient lighting that are reducing the load. The less energy needed, the less carbon generated. Between the thermal envelope, windows and wall systems, new types of heat pumps and water heaters, off-site renewables coming on site, and the type of IoT and artificial intelligence solutions that are available, we're able to create buildings at net zero in ways that were not available just five years ago.
GlobeSt.com: Are there aspects of climate change that should get more attention from CRE?
Cohen: CRE industry and design community are shaping the future of cities and impacting how millions of people live, work, and play. It's fantastic that the leading CRE developers are making strides to really go beyond what's been done in the past. We're seeing the turning point of that cost conversation. When you create buildings that use these evolving technologies and that are the most efficient in their markets, people and companies want to be there, and in most markets, they're able to bring the highest lease rates. As demand goes up for these materials and systems, the costs start to come down and it gets extremely competitive. As leaders in the CRE industry, we must seize the opportunity to create pathways for a more sustainable future and improve livability, human experience, and quality of life in our cities.