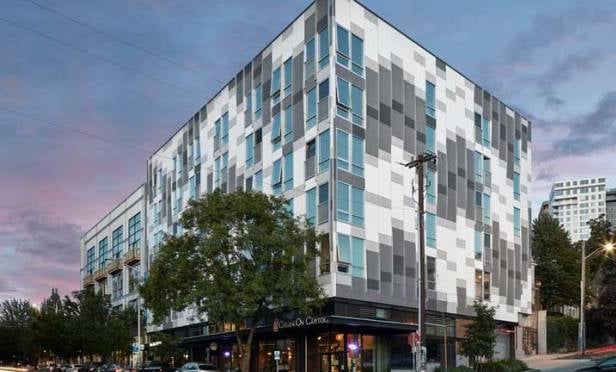 SEATTLE—Two Seattle projects exemplify the growth trajectory of the region, the need for high density and the power of local community involvement to ensure the best possible outcomes. One of those projects, Infinity Shore Club Residences, is the largest condominium project planned for West Seattle in 2020.
This 40-unit condo project is being developed by Vibrant Cities and was designed by architect Tiscareno Associates. James Wong, co-founder and CEO of Vibrant Cities, says this project shows how far Seattle has come in just 10 years.
"The sleepy Seattle that I've grown up in since 1982 is now a sleepless fast-growing city that is home to global giants like Amazon, Microsoft and thousands of other tech and non-tech companies," Wong tells GlobeSt.com. "Just 10 years ago when the pundits talked about the big cities in America, they would talk about New York, San Francisco, LA, Chicago. Today, when they talk about the big and important cities, they talk about New York, San Francisco, Seattle and LA. Seattle is included in the language now."
However, Wong says there has been a lot of economic growth and wealth created within the region in the last 20 years but real estate prices and product have not followed suit.
"If you look at the buying power of our residents in the Seattle area, you'll see that our real estate prices and rents are still quite affordable compared with other big growing cities around the country and the world," Wong tells GlobeSt.com. "With our world-class city status, Seattle deserves a world-class product like Infinity. Seattle has grown up and we're developing something to meet our growing city's demand."
Although some of Infinity's units average $1.8 million, those prices may double in five to 10 years, Wong says.
"However, even with higher prices, our prices would still be lower than other world-class cities with less economic growth than Seattle," Wong points out.
Bob Tiscareno, managing partner/founder of Tiscareno Associates, says Infinity Shore Club is indicative of many development/design trends currently taking place in Seattle.
"A major trend right now is providing greater density to respond to a growing population," Tiscareno tells GlobeSt.com. "Density helps to create vital neighborhoods that are accessible by public transportation and rely less on cars. Another growing focus in design is neighborhood compatibility. Both developers and review boards want to see new developments designed to fit the scale and context of the surrounding neighborhood. For instance, with this project, we spent a lot of time addressing the relationship between the building and Alki Avenue. We added a lot of transparency and landscaping along the sidewalk to provide an appealing pedestrian experience."
The team also worked very closely with the local community group, Action Alki Alliance, Tiscareno says.
"We engaged them early on in the process and incorporated their feedback into the design," he tells GlobeSt.com. "They've supported us in our design review meetings with the city and even at the groundbreaking ceremony. In fact, engaging the community has been a key focus on all the projects we've done with Vibrant Cities, i.e., Cove and Pivot, and I think this is something we'll continue to see. As with many densifying neighborhoods in Seattle, stakeholders on Capitol Hill have been thoughtful about their vision for its growth, Tiscareno says.
"Planning for the Pike/Pine Corridor's future while embracing its past like its Auto Row history required the involvement of community boards and government agencies," he tells GlobeSt.com. "During initial design, our firm met with the volunteer neighborhood association, Pike/Pine Urban Neighborhood Council, which carried early influence. After earning PPUNC's approval, we developed the design further and presented it to the neighborhood design review board. This more formal body provided additional input. Fortunately, our firm thrives on collaborative creativity and appreciated working together with these groups to merge their vision for the community with our client's goals for the building."
And, when design-build developer SolTerra stepped in as developer on The Cove, it overlaid a vision of natural living in an urban environment onto the solid building plans that the firm had already created for a previous developer. Merging SolTerra's new sustainability-intensive design with foundational work indeed meant gaining community and civic approval for revisions.
The Cove's location on Capitol Hill allows navigation of the city in any direction. Pike Place Market, Amazon's corporate headquarters, Seattle University and Seattle Central Community College are a short distance from The Cove. The development features studios, one, and two-bedroom apartment homes in different floor plans ranging from 412 to 826 square feet, and is managed by Thrive Communities.
The Cove features green appliances, solar panels, sustainable building and energy efficiency. Taken together, all of The Cove's sustainability measures decrease its energy use by 45% and decrease the project's CO2 emissions by 71%. These include oversized tilt-turn triple-pane windows for energy efficiency and noise mitigation, energy-efficient fixtures and EnergyStar appliances such as efficiency toilets, low-flow showerheads and faucets, and high-efficiency dishwashers and clothes washers (which reduce indoor water use by 45%), and LED light fixtures which use one-10th the electricity but last 50 times longer than traditional incandescent fixtures. Other significant energy savers are the high-efficiency, ductless mini-split AC units installed in every unit and the central heat recovery ventilation system ensuring optimal heating and cooling throughout the year.
A 14.3 kW solar array suspended from the south side of the building provides power for common areas and keeps utilities reasonable for the retail tenants. A 3,000-foot green roof and green awnings feature drought-tolerant vegetation and manage storm water. A fitness center, bike repair station, and car and bike parking are other amenities.
"Creating sustainable development within any dense urban environment is challenging thanks to additional permitting and construction costs. Integrating the vision of our project into the particular urban environment of Capitol Hill held extra hurdles," Tiscareno tells GlobeSt.com. "Further challenges came from the site's natural slope, diminutive size of 9,000 square feet, and transition between bustling commercial to the north and low-rise residential to the south. We leaned into the constraints, setting the project back from its southern property line to let in air and light, while also establishing a more gradual transition between multifamily and single family. This allowed us space to express the solar panels off the south roof while creating sun shades for those south-facing units."