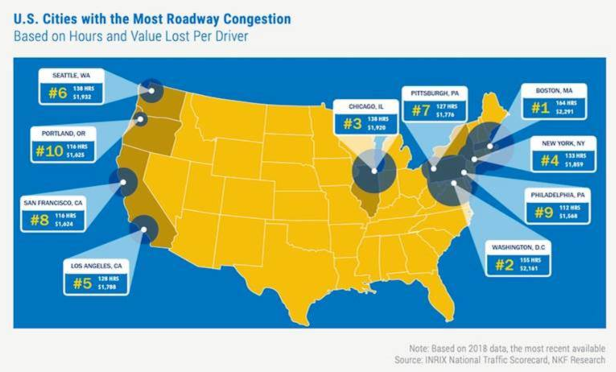 Los Angeles traffic is a very real factor in corporate decision-making. A new report measuring roadway congestion from Newmark Knight Frank ranks Los Angeles fifth in the nation for traffic, behind Boston, Washington DC, Chicago and New York. In the tight labor market, traffic is becoming a major concern for companies, with 41% employees choosing to leave a position because of commute times.
"Traffic congestion and employee drive times continue to be a very real factor in corporate decision making with respect to physical office locations throughout L A," Alex Bergeson, managing director at NKF, tells GlobeSt.com. "Many of the companies who have recently made decisions to grow and expand in Culver City are going to be vacating locations in the beach cities—mainly Santa Monica—because the connectivity to the entertainment world, based in Hollywood, is being hindered by traffic patterns. With a more central location in a submarket like Culver City, employers can pull from the labor force in the beach cities, while still being in proximity to Hollywood and the entertainment markets."
While ranking at the top of this list isn't enviable, L.A.'s fifth place ranking could be considered good news, considering the market's reputation for traffic. However, Bergeson says that the city's sprawling geography could have played a role in the ranking. "[I was surprised], although the four cities ahead of L.A. have a metropolis/CBD that is more concentrated, so it's understandable that the traffic just in those CBD areas is worse," he says. "I would imagine that L.A. still has generally worse traffic over a much wider geographic area than those first four cities do."
As more corporations factor traffic patterns into their growth decisions, new submarkets are benefiting. "Traffic affects real estate owners in the same way it affects their tenants—their fates are intertwined," says Bergeson. "Traffic congestion has definitely been a positive factor in the growth of El Segundo as a "creative" office market. A critical mass of C-suite executives live in the South Bay beach cities and over this past cycle, traffic congestion has increased to a point where the executives simply can't bring themselves to commute to the upper Westside. Now that savvy owners have built the proper product to attract the creative industries, the momentum for migration south is in full swing."
Los Angeles is investing in mass transit and giving development incentives to walkable communities, but Bergeson doesn't see the traffic issues subsiding. "The metro lines that are underway around the city will help drive commerce along those lines, especially at each of the stops, but I don't believe they won't have any material impact on the congestion felt roads and freeways," he says.