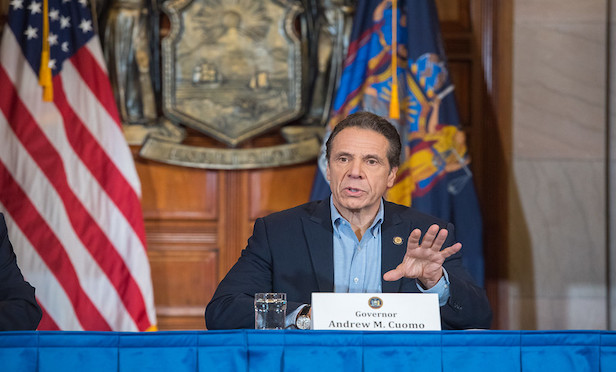 NEW YORK CITY—After the head of the National Institute of Allergy and Infectious Diseases at the National Institutes of Health recommended on Sunday significant restrictions be imposed to prevent the spread of the coronavirus (COVID-19), governors and mayors of major cities across the nation followed suit.
For example, New York City Mayor Bill de Blasio succumbing to significant public pressure, announced on Sunday the closure of all city schools beginning today. At 10:22 p.m. Sunday evening the mayor went even further stating that he would sign an executive order today limiting restaurants, bars and cafes to take out and delivery and ordering the closure of all nightclubs, movie theater houses and concert venues in the city effective Tuesday, March 17 at 9 a.m.
"Our lives are all changing in ways that were unimaginable just a week ago," New York City Mayor de Blasio stated. "We are taking a series of actions that we never would have taken otherwise in an effort to save the lives of loved ones and our neighbors. Now it is time to take yet another drastic step. The virus can spread rapidly through the close interactions New Yorkers have in restaurants, bars and places where we sit close together. We have to break that cycle."
On Sunday, New York Gov. Andrew M. Cuomo announced New York City, Westchester, Nassau and Suffolk county schools will close this week in an effort to limit the spread of novel coronavirus, or COVID-19.
Schools in Westchester, Nassau and Suffolk will close for two weeks beginning Monday, March 16.
The governor has requested the federal government to deploy the U.S. Army Corps of Engineers to retrofit and equip existing facilities—such as military bases or college dormitories—to serve as temporary medical centers. In that vein, he has tasked SUNY Empire State College President Jim Malatras with working with counties to develop contingency plans in preparation for school closings, including how to provide meals to food insecure children and ensuring families have adequate access to childcare.
In New Jersey, Gov. Phil Murphy is expected to announce the closure of all public schools in New Jersey today and last week recommended the cancellation of all public gatherings of 250 people or more. It is believed the governor will be imposing harsher restrictions and according to some published reports is even considering the imposition of a statewide curfew.
Illinois Gov. JB Pritzker announced on Sunday that all bars and restaurants in the state of Illinois will be closed to the public, beginning at the close of business Monday, March 16th through Monday, March 30th.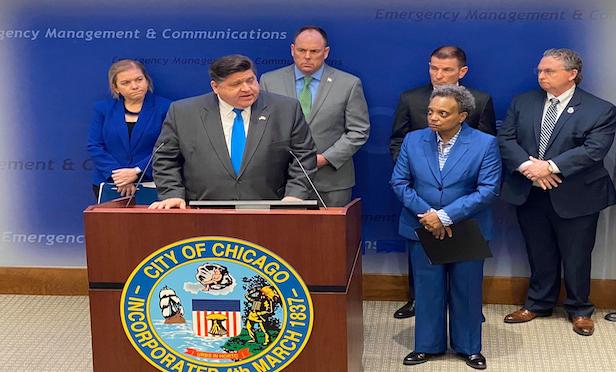 "This is another hard step to take. I know how difficult this will be on small businesses around the state. But we must do everything we can to safeguard the health of the citizens of Illinois, and that requires this urgent action," said Gov. Pritzker. "The time for persuasion and public appeals is over—the time for action is here. This is not a joke. No one is immune to this, and you have an obligation to act in the best interests of all the people of this state."
"This is a make or break moment. Clear and bold actions are needed immediately to stop the spread of COVID-19 and strengthen public health in Chicago and across the state," said Chicago Mayor Lori E. Lightfoot. "In the days and weeks ahead, we will continue to keep our residents and businesses apprised of developing information, ensuring they understand the measures we are taking and are following the latest guidance by public health officials. The City of Chicago is working to safeguard the health of our communities at every level of our operations. We are resilient, and we are all in this together."
The state is working with restaurant owners and food delivery services to ensure kitchens can safely remain open to continue food delivery and put in place drive-thru and curbside pickup options for restaurants to continue to serve the public.
On Sunday, Massachusetts Gov. Charlie Baker announced a three-week suspension of public and private elementary and secondary (K-12) schools in the Commonwealth beginning Tuesday, March 17.
Among other measures to prevent the spread of COVID-19, the governor issued an emergency order limiting gatherings to 25 individuals and prohibiting on-premises consumption of food or drink at bars and restaurants, beginning on March 17 and effective until April 6.
Pennsylvania Gov. Tom Wolf, who ordered the closure of all public schools in the Commonwealth beginning today, ordered all restaurants and bars to close their dine-in facilities at 12:01 a.m. on Monday, March 16 in Allegheny, Bucks, Chester, Delaware and Montgomery counties for 14 days to help stop the spread of COVID-19. Businesses that offer carry-out, delivery, and drive-through food and beverage service may continue to do so, but eating and drinking inside restaurants and bars is temporarily prohibited, the governor stated on Sunday.