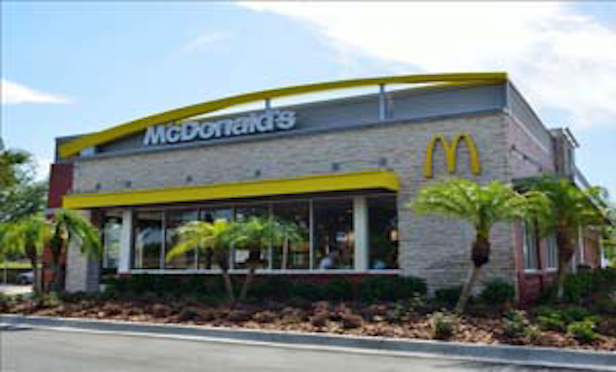 CHICAGO—At the close of business on Monday, McDonald's USA, in order to slow the spread of COVID-19, closed seating areas, including the use of self-service beverage bars and kiosks, and is now serving customers through Drive-Thru, walk-in take-out and McDelivery only.
Additionally, the company closed all PlayPlaces at US locations effective on Monday.
The company further stated that its franchisees are strongly encouraged to adopt similar operations procedures. "This guidance is supported by franchisee leadership and is expected to be adopted by the majority of franchisees," the company stated in its announcement released on Monday.
McDonald's is the world's leading global food service retailer with more than 38,000 locations in over 100 countries. Approximately 93% of McDonald's restaurants worldwide are owned and operated by independent local business men and women.
"It is remarkable how franchisees, suppliers, agencies and company employees have come together in recent days. During these uncertain times that impact all of us in personal ways, our ability to support each other, our people and our communities will ensure we emerge from this crisis stronger than before," says Joe Erlinger, president of McDonald's USA.
McDonald's Corp. also announced on Monday that Heidi B. Capozzi was named the company's executive vice president and global chief people officer, overseeing the company's global human resources operations. In this role she will lead corporate employee relations, diversity and inclusion, total rewards and talent management among other areas. Capozzi will start on April 13, 2020 and will be based at the company's Chicago headquarters in the West Loop.
Capozzi most recently served as senior vice president of human resources for the Chicago-based Boeing Company where she led initiatives for 160,000 employees across a $76-billion global enterprise. Since 2016, Capozzi has overseen Boeing's leadership and learning, talent planning, employee and labor relations, total rewards and diversity and inclusion initiatives. Under her guidance Boeing reimagined their HR model and transformed talent development and mobility system wide.