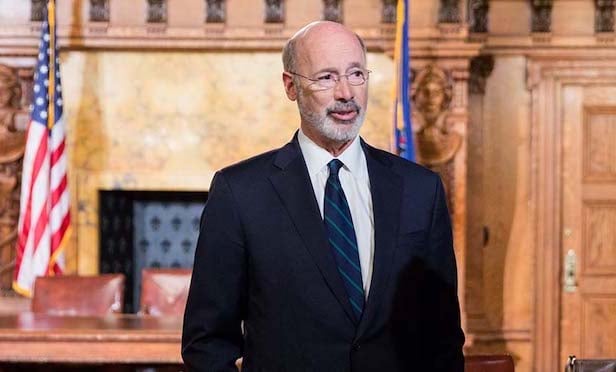 HARRISBURG, PA—Pennsylvania Gov. Tom Wolf ordered on Thursday the closure of all "non-life sustaining" businesses in the state to slow the spread of COVID-19.
The order hits the real estate and construction industries in Pennsylvania hard, mandating the closure of all real estate brokerage firms, as well as the cessation of construction of all residential and non-residential construction, utility, highway, street and bridge construction.
The order required the closure of all non-life sustaining businesses by 8 p.m. on Thursday. The governor had previously encouraged non-life-sustaining businesses to close to mitigate the spread of COVID-19. Restaurants and bars were already required to stop all dine-in services. Enforcement for establishments with a liquor license began at 8 p.m. March 18, and enforcement for all other food establishments will begin at 8 p.m. tonight. Food establishments can offer carry-out, delivery, and drive-through food and beverage service, including alcohol.
"To protect the health and safety of all Pennsylvanians, we need to take more aggressive mitigation actions," said Gov. Wolf. "This virus is an invisible danger that could be present everywhere. We need to act with the strength we use against any other severe threat. And, we need to act now before the illness spreads more widely."
Private businesses, local organizations and other non-compliant entities that fail or refuse to comply with the governor's orders will forfeit their ability to receive any applicable disaster relief and/or may be subject to other appropriate administrative action, state officials say. Such action may include termination of state loan or grant funding, including Redevelopment Assistance Capital Project grant funding and/or suspension or revocation of licensure for violation of the law.
In addition to any other criminal charges that might be applicable, the Department of Health is authorized to prosecute non-compliant entities for the failure to comply with health laws, including quarantine, isolation or other disease control measures. Violators are subject to fines or imprisonment.
The Wolf Administration also announced the availability of low-interest loans for small businesses and eligible non-profits in all 67 counties in Pennsylvania through the U.S. Small Business Administration.
City of Philadelphia Launches Coronavirus Fund
The City of Philadelphia, the Philadelphia Foundation, and United Way of Greater Philadelphia and Southern New Jersey has announced the formation of the PHL COVID-19 Fund to aid non-profits that are on the frontline of the pandemic, providing urgent resources throughout the Philadelphia region.
"The pandemic is placing extraordinary stress on our city and region, particularly on already strained community organizations that help our most vulnerable residents, and we must work urgently to provide them with greater financial support," said Philadelphia Mayor Jim Kenney. "This is an unprecedented time demanding an unparalleled unified response. The Fund is a shining example of government, philanthropy, and business coming together to respond to the immediate demands of our community and adapt to this evolving challenge.
The PHL COVID-19 Fund will provide grants to Greater Philadelphia non-profit organizations with a successful track record of serving at-risk populations such as seniors, people with disabilities, and those who are experiencing homelessness or are economically disadvantaged. These grants will allow the non-profits to continue providing community safety nets such as food pantries and health services, as well as preparedness and protection services, such as hygiene supplies and access to accurate information.
The PHL COVID-19 Fund is launched with $6.4 million in funding, including a $3 million lead gift from the William Penn Foundation. The fund supports nonprofits in the Greater Philadelphia Area—five Pennsylvania counties (Bucks, Chester, Delaware, Montgomery, and Philadelphia) and five Southern New Jersey counties (Atlantic, Burlington, Camden, Cape May, and Cumberland).