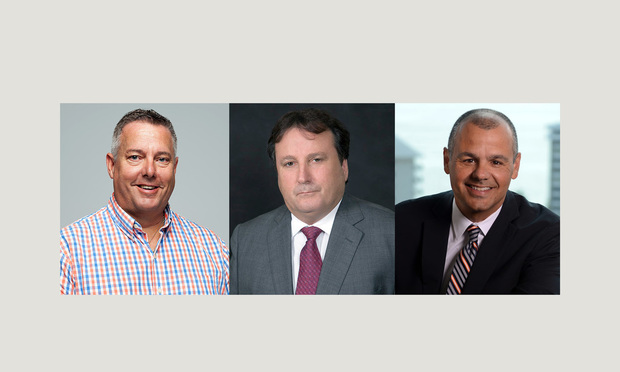 Real estate construction is active across South Florida despite other industry shutdowns in the coronavirus pandemic, but projects in the pre-approval stage are at a standstill.
Governments agencies have canceled zoning and commission meetings for at least the next month to abide by the social distancing recommendations to avoid infection.
It's necessary and justified but with far-reaching implications, attorney Javier Vazquez said.
"The biggest issue as far as delays go is with zoning hearing applications because of the fact that they rightfully are getting canceled. Every time you have a rescheduling of a public hearing, it requires re-advertisement, it causes a considerable delay to the project," said Vazquez, partner at Berger Singerman and member of the government and regulatory practice in Miami. "Permitting and construction can't commit typically until these entitlements are in place, so it kind of has a domino effect on the design line for the proposed development and the construction."
The Miami Planning, Zoning and Appeals Board didn't meet Wednesday and canceled its April 1 meeting. In Miami Beach, the Design Review Board meeting set for April 7 was canceled, and the Land Use and Sustainability Committee meeting scheduled April 14 was postponed a week.
Construction work in still underway, unlike places like the Massachusetts cities of Boston and Cambridge, which halted work.
Art Falcone, whose Miami Worldcenter in downtown Miami and Plantation Walk near Fort Lauderdale are chugging along, said at least crews generally don't work close to one another.
"The question is going to be if there's any mandates from local governments," said Falcone, who is a partner in Worldcenter and the Plantation Walk master developer. "Obviously, we will comply with all state and federal and local mandates."
He wondered aloud if he could foresee extra costs and noted construction sites require services ranging from portable toilets to dumpsters and cranes.
"Your job is delayed by a month, you still have $1,000 a day for the crane," Falcone said.
Attorney Gary Stein agreed any work interruption would add to costs.
"In the construction industry, time is money. So if there is a suspension of a project or any delay in the construction of a project, there is going to be some cost impact," said Stein, Peckar & Abramson Miami co-managing partner.
He represents general contractors and construction managers working on more than 30 projects across the region. He suggests his clients should examine their agreements with developers to understand their rights and keep records of accrued costs in case of a work halt, he said.
Force Majeure
Developers retain general contractors under agreements with force majeure clauses, which addresses unmet obligations over uncontrollable circumstances referred to as "acts of God." In South Florida, these generally have been applied in South Florida to hurricanes.
Coronavirus has prompted questions about whether pandemic-related delays are covered under force majeure, and the answer depends, Carlton Fields Atlanta shareholder Daniel Weede wrote on the firm's website.
A broad force majeure clause might not specify a pandemic, but it wouldn't exclude it either, Weede wrote. A more specific definition would limit force majeure to specific events.
Contracts also might have project suspension and termination clauses, Stein noted.
"You have to look at the clauses and their situations to see what they provide in terms of rights to contractors for time extension and additional compensation if and when the project has restarted," he said.
Permits, Inspections
Projects might face hurdles if county and municipal building departments cease issuing permits and performing inspections.
Miami Beach is operating as usual, a spokeswoman said.
Miami is doing all building permit-related services via email, including requests for revisions, phase and completion permits; changes of contractors, architects and engineers; new contractor registrations; and requests for project fee waivers, according to a news release.
Boca Raton is performing inspections and processing building permit requests, including new applications, online. City staff members are working remotely to help with building permits as the building department building was closed.
But the experts are considering what might happen if the pace of construction slows.
"In the short period of time, the impact would be minimal. It all depends on how long those building departments stop accepting new building permits. For a short period of time, it would be a hiccup but it's something the system can definitely adapt to," said Peter Dyga, president and CEO of the East Coast chapter of the Associated Builders and Contractors Florida .
Inspections are done throughout construction and when a project is ready for an occupancy certificate, said Greg Main-Baillie, Colliers International executive managing director of the Florida development services group in Boca Raton.
Also of note is that if coronavirus delays projects, developers won't get a break if their development orders and building permits approved by municipalities expire.
The Legislature in 2019 revised state law that previously allowed development orders and building permits to be extended when the governor declares a state of emergency. Many developers got extensions in years past for the Zika virus outbreak and opioid crisis.
But under the new law, only natural events such as hurricanes, earthquakes and floods allow for development extensions, according to a Tuesday article by Bilzin Sumberg partner Brian Adler.
"Unfortunately, the current health crisis caused by the Coronavirus does not appear to fall under this definition currently," wrote Adler, based in Miami.
Still, there are some reprieves on a case-by-case basis as Miami Beach provided a one-month extensions for permits expiring from the past month through April 16.
"Hopefully, state legislation will be forthcoming to extend development orders and building permits in response to the COVID-19 state of emergency that has already caused statewide impacts and business closures," Adler added.
With other places ordering a construction moratorium, the subject is open for discussion.
"I can't say with a degree of certainty," Stein said. "We are just going to have to see what happens over the next days and weeks in terms of the local authorities taking similar action. It's certainly in the realm of possibilities."