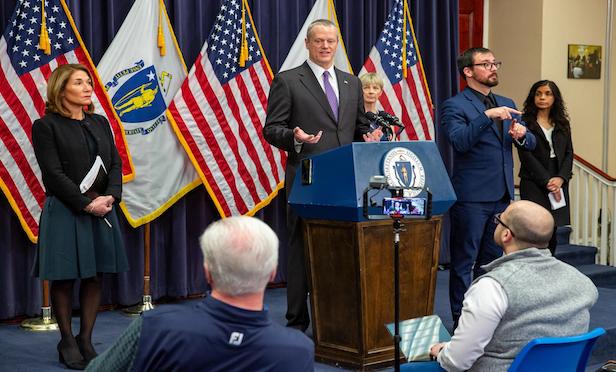 BOSTON—Massachusetts Gov. Charlie Baker issued an emergency order on Monday that calls for the closure of all non-essential businesses in the state by today at noon for two weeks.
The closure order will run from March 24th until April 7th at noon. Among the designated essential businesses exempt from the closure order include: health care and public health, law enforcement, public safety and first responders, food and agriculture, critical manufacturing, transportation, energy, water and wastewater, public works, communications and information technology, financial services, defense industry base, chemical manufacturing and hazardous materials, other designated community based essential function and government operations and news media.
Gov. Baker has also directed the Department of Public Health to issue a stay at home advisory outlining self-isolation and social distancing protocols. Residents are advised to stay home and avoid unnecessary travel and other unnecessary activities during the two-week time period. Residents over 70 years of age or with underlying health conditions, who are considered at high risk when exposed to COVID-19, should limit social interactions with other people as much as possible.
The governor's executive order follows more stringent restrictions imposed by the cities of Boston and Cambridge, that included the ban on construction projects there.
The Baker-Polito Administration stated in the announcement that it does not believe Massachusetts residents can be confined to their homes and does not support home confinement for public health reasons.
The order also limits gatherings to 10 people during the state of emergency, a reduction from the 25-person limit established in an earlier order.
This includes community, civic, public, leisure, faith-based events, and any similar event or activity that brings together more than 10 persons in any confined indoor or outdoor space. The order does not prohibit gatherings of more than 10 people in an outdoor space, like a park or athletic field.