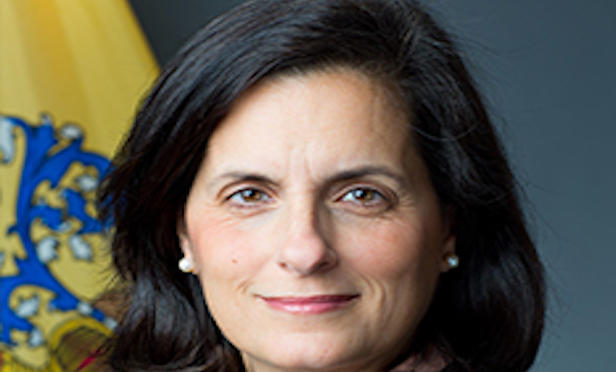 TRENTON, NJ—New Jersey State Treasurer Elizabeth Maher Muoio announced on Monday in a disclosure statement to bondholders that she has frozen $920,613,854 in appropriations to deal with the potential economic and revenue impacts of the Coronavirus.
Treasurer Muoio stated, "It is likely that the full fiscal impact of COVID-19 on the state will change significantly as the situation further develops. The actual impact of COVID-19 on the state, its economy and its budget and finances will heavily depend on future events, including future events outside of the control of the state, and actions by the federal government as well as nations across the world."
She added, "The state believes that it may be some time before the state is able to determine the full impact that the various events surrounding COVID-19 have on the state's economy, and its financial condition."
By placing these appropriations in reserve on March 20, the release of those appropriations will now require the Budget Director's approval before the appropriated amount may be expended.
With certain exceptions, the Budget Director has reserved appropriations representing: 50% of all uncommitted non-salary operating funds (with the exception of funding needed to provide 24/7 care at state institutions), 50% of all uncommitted revolving and dedicated funding, and 100% of all non-entitlement, discretionary grants-in-aid and state aid funding.
Among the major items of appropriations placed in reserve is nearly $142 million in funding for the Homestead Benefit credit. The state is in the process of notifying towns that any credits intended to be applied to the May 1 bills can no longer be supported by the state at this time. The state is prepared to reimburse any municipalities for the administrative costs if they have to issue revised property tax statements.
Among some of the negative COVID-19 impacts highlighted in the letter to bondholders included:
• The state expects precipitous declines in revenues in Fiscal Year 2020 and Fiscal Year 2021, which include significant reductions in gross income tax revenues, corporate business tax revenues, and sales tax revenues due to required business shutdowns, motor fuels taxes due to Executive Order No. 107 (i.e., "stay-at home" orders), casino-related taxes due to casino closures, and lottery sales which have already started to decline.
• The state expects that it will need to significantly revise the estimated revenues and projected appropriations for Fiscal Years 2020 and 2021 contained in the Governor's Budget Message for Fiscal Year 2021 delivered on February 25, 2020, which was before the outbreak of COVID-19 within the state.
• The state expects to encounter negative impacts on its liquidity in Fiscal Year 2020 due to the expected extension of the state tax filing deadline from April 15, 2020 until potentially July 2020.