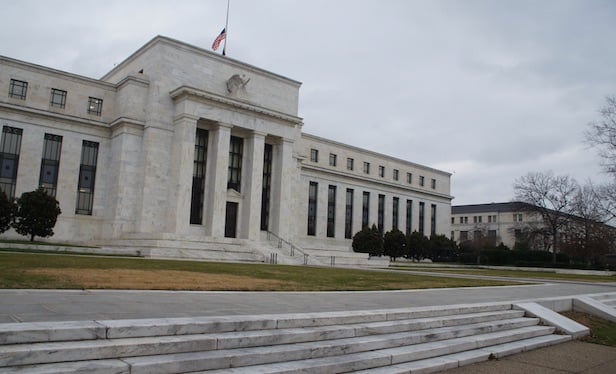 WASHINGTON, DC—Thirteen real estate trade associations led by the CRE Finance Council are urging the Federal Reserve and Treasury Department to extend its coronavirus-led monetary and fiscal policies to help inject much-needed liquidity in the CMBS market.
Namely, the group urges the Fed to expand the recently announced Term Asset-Backed Security Loan Facility to include agency and private-label CMBS. The TALF program is a reboot of a 2009 crisis program aimed at providing liquidity to ABS markets by offering loans backed by highly-rated ABS. That first program included CMBS as an eligible asset class.
In a letter sent to policy-makers, the group said that the exclusion of CMBS from the TALF program has caused significant harm to that market. "The current extreme funding pressures on a wide range of financial institutions and a significant contraction in available liquidity at this time present a systemic risk to the US mortgage markets, the financial system, and the economy as a whole," it said.
Earlier this week Colony Capital Thomas Barrack warned that the US commercial market was in jeopardy due to significant margin calls on repurchase agreements that have resulted in a severe liquidity crisis over the entire real estate finance market. Barrack's policy prescriptions focused on giving financial institutions more flexibility for loan restructuring efforts.
The CREFC-led group is calling for TALF to support new-issue and legacy agency CMBS; new-issue and legacy private-label conduit and single-asset single-borrower CMBS; and specific types of high-grade credit risk, such as the GSE credit risk transfer securities.
It is also asking for TALF to recognize current market dynamics by offering a maximum TALF loan maturity of five years or more for CMBS, which have longer durations than the other assets classes currently in the facility. Also, it requested that TALF 2.0 haircuts should be reduced relative to those that prevailed for the first TALF program and should range between 5% and 10%.
Finally. the group calls for eligibility criteria to extend to super-senior AAA CMBS rated by one or more of the nationally recognized statistical rating agencies, noting that senior bonds make up 70% of CMBS.
In a separate release, the Real Estate Roundtable has urged building owners "to voluntarily, proactively work in a positive and constructive manner with their COVID-19 impacted tenants respecting current rent obligations."
It also asked regulators to encourage lenders to work with their business borrowers to address their financial liabilities without undue added penalties. "We call on all lenders and credit market participants – be they banks, bondholders, rating agencies or life companies – to exercise fully and freely the latitude provided by supervisory and regulatory authorities," it said.
"Specifically, The Federal Reserve, the US Treasury and other federal agencies must work with federal and state regulators to facilitate these efforts, including issuing explicit assurances to financial institutions, bondholders, rating agencies and servicers that such emergency accommodations will not result in any adverse regulatory, capital or ratings impact," the Real Estate Roundtable concluded.